It Seems like Everyone has a Blog These Days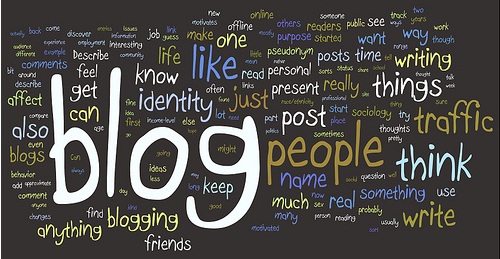 It seems like there are many peo­ple who have some sort of blog these days doesn't it. Every time you go online either to check your email or to look up some­thing, we get bom­barded with infor­ma­tion about the "How to Make a Six Fig­ure Income from Home" or "Ger­bils and their Own­ers Forum".
For those of you who are skep­ti­cal or dare I say cyn­i­cal about peo­ple who have a blog and their intents, I say don't be. Yes, there are plenty of get rich quick schemes and shys­ters out there online unfor­tu­nately, but there is also plenty of great infor­ma­tion out there on just about every sub­ject a per­son is inter­ested in. Much of this infor­ma­tion is con­tained within blogs. If a per­son is look­ing for infor­ma­tion about a spe­cific type of car such as a Camaro, a spe­cific type of indus­try such as ice cream or a spe­cific vaca­tion des­ti­na­tion, blogs are a fan­tas­tic wealth of infor­ma­tion where the aver­age per­son with an inter­net con­nec­tion can get the infor­ma­tion they desire.
Accord­ing to the Wikipedia entry for blog, "A blog (a con­trac­tion of the term "weblog") is a type of web­site, usu­ally main­tained by an indi­vid­ual with reg­u­lar entries of com­men­tary, descrip­tions of events, or other mate­r­ial such as graph­ics or video. Entries are com­monly dis­played in reverse-chronological order."
Why is a Blog Dif­fer­ent than a Com­pany Website?
Usu­ally blogs are writ­ten in per­sonal voice and posts are usu­ally updated fairly fre­quently. I say fairly fre­quently because some blog own­ers write on their blog once a month, if that, or they update almost every hour. The per­sonal voice of most, if not all, blogs is usu­ally that of a con­ver­sa­tion between the writer and the reader. This can make it more appeal­ing to a reader because it can deliver infor­ma­tion in a more humanly relat­able way. Blog posts are also chronological-order and dated. A com­pany or basic 'web­site' usu­ally con­tains sta­tic infor­ma­tion writ­ten by a group from the com­pany or busi­ness mar­ket­ing depart­ment where they scru­ti­nize every sin­gle word that goes on it. Some­times it is this scrutiny that hides key bits of infor­ma­tion that the reader may be inter­ested in. Most blogs don't have that issue. The owner(s) of the blog will usu­ally reveal more infor­ma­tion than needed. This plays really well into those peo­ple out there who love to find those con­spir­acy the­ory lov­ing peo­ple out there…8-)
Blogs are also usu­ally friendly towards the inter­ac­tion between the reader and the blog writer. Peo­ple can com­ment on the posts they read or on the blog itself if they wish to do so. By doing so, a reader can have a direct con­ver­sa­tion that other read­ers can basi­cally listen-in on. Depend­ing upon what the blog is about, the inter­ac­tion between the com­men­ta­tor and the blog writer will reveal a lot of infor­ma­tion about the sub­ject. Infor­ma­tion that a vis­i­tor to the blog can learn from.
Be Care­ful Though
Just like there is a lot of good infor­ma­tion on blogs, there is also a lot of bad or mis­lead­ing infor­ma­tion. Since a blog is really someone's web log on a par­tic­u­lar topic, a per­son can spread the wrong infor­ma­tion. They may have good inten­tions or sim­ply not know that the infor­ma­tion is incor­rect. This is espe­cially true if the per­son is a very good writer and can cre­ate a believ­able atmos­phere on his/her blog. What I mean as a believ­able atmos­phere is that their blog or post can appear to be really pro­fes­sional look­ing and appear to have "cred­i­ble" infor­ma­tion which may in fact be noth­ing more than a link to another blog that they own or a ref­er­ence to an arti­cle writ­ten by some­one who didn't do, shall I dare say, their home­work on the subject.
How Do I Find a Blog that Writes About What I'm Look­ing For?
Good ques­tion! Here is one of many good answers to that ques­tion. A secret is that there are sites out there specif­i­cally keep­ing track of what peo­ple are writ­ing about. One very good site is www.technorati.com which is basi­cally a blog search engine (it was one of the first ones). Unlike reg­u­lar search engines, searches can be focused to occur only within exist­ing blogs and not com­pany web­sites. On tech­no­rati, you can search by sub­ject within blogs or within posts.
Another site is Blog­Pulse. Blog Pulse is a blog search engine and blog buzz track­ing ser­vice devel­oped by Nielsen Buzz­Met­rics that accord­ing to the site "applies machine-learning and natural-language pro­cess­ing tech­niques to dis­cover trends in the highly dynamic world of blogs".
On the blog roll page of this site, I've listed some of my favorite blogs (this is a con­tin­u­ously grow­ing list) that may pique your inter­est. If not, check out the blog search engines above.
What advice would you give to peo­ple using blogs to search for information?
Some Rec­om­mended Books to Check Out:

Comments