Leadership Traps: Communication Without Communicating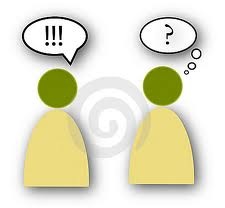 Depend­ing upon where you're from, or what gen­er­a­tion you are part of, your view of what a leader should and should not be will vary. There are those who say chang­ing times call for changes in lead­er­ship styles. While that may be true for some areas of lead­er­ship, many basic char­ac­ter­is­tics of lead­er­ship still hold true today as they did back with pre­vi­ous generations.
A cru­cial area that has not changed is the abil­ity to com­mu­ni­cate.  Com­mu­ni­ca­tion has added new tools to its reper­toire over the last cou­ple of decades (such as email and instant mes­sag­ing), but time tested com­mu­ni­ca­tion meth­ods are still needed today. To sub­sti­tute these time tested com­mu­ni­ca­tion meth­ods with email and/or instant mes­sag­ing would be to ask your team and peers to begin alien­at­ing them­selves from you. Why do I say such a blan­ket state­ment like that about using email and instant mes­sag­ing? Because in a fast paced world, full of so many elec­tronic com­mu­ni­ca­tion meth­ods, being able to com­mu­ni­cate face-to-face is becom­ing rarer and more valu­able than ever.
An Epiphany at Work!
A good friend of mine was recently work­ing as a direc­tor for a large inter­na­tional firm in charge of putting together a brand new orga­ni­za­tion for the com­pany. Unfor­tu­nately, she chose to leave that firm just after 7 months. Why? There were many rea­sons as it turns out. But what's inter­est­ing is that most of those prob­lems stemmed from the lead­er­ship trap of "com­mu­ni­ca­tion with­out com­mu­ni­cat­ing". Her boss and her were sim­ply not meet­ing eye to eye on many things and con­sis­tently mis­un­der­stand­ing each other. Believ­ing they were shar­ing clear con­cise infor­ma­tion but in fact not under­stand­ing what the other one was intend­ing to com­mu­ni­cate. This lead­er­ship trap is prob­a­bly one of the main ingre­di­ents in a "recipe for fail­ure" and that recipe was cook­ing over the six to seven months she was at the firm.
For the first three to four months, things appeared to be going very well. At the end of the fourth month, how­ever, she dis­cov­ered that her boss was not happy with the way things were going. What made it more of a sur­prise was that she and her boss were hav­ing weekly one-on-ones since she started her new role. Dur­ing these weekly ses­sions, the ver­bal feed­back was a pos­i­tive one. To add addi­tional inter­est to this story, she dis­cov­ered how her boss felt not from her boss but while meet­ing with an HR rep­re­sen­ta­tive (that she met with on a peri­odic basis to dis­cuss team devel­op­ment goals). Her boss never com­mu­ni­cated to her that there were any issues or con­cerns dur­ing their one-on-one weekly meet­ings. She con­fronted her boss at their next one on one and heard a sim­i­lar tone as before. Yes, there were some things that her boss was not happy about. They decided to dis­cuss this fur­ther dur­ing the meet­ing and even­tu­ally an under­stand­ing was appar­ently reached. Three months later, my friend chose to leave rather than con­tinue work­ing at that firm because all she heard from the HR rep­re­sen­ta­tive was that her boss was still not happy with any of her work. She said she never got this mes­sage from her boss. When I asked her why she decided to leave, she told me that it sim­ply wasn't a good fit.
My friend and her boss were not com­mu­ni­cat­ing well with each other. Both she and her boss were high enough in their careers to know how they should and shouldn't com­mu­ni­cate. But regard­less, a com­mu­ni­ca­tion break­down occurred between two peo­ple who should not have had one occur. Even though they were meet­ing on a weekly basis, they were really "com­mu­ni­cat­ing with­out com­mu­ni­cat­ing".   
Look­ing back on the entire sce­nario, my friend told me there were things that both her and her boss should have done. Her boss wasn't being upfront with his sub­or­di­nate about his con­cerns and my friend was not ask­ing her boss the cor­rect ques­tions she should've asked (in order to ensure that she and her boss were on the same page about how things were going). She can't change the past, but today she is the wiser for what occurred.
Have you ever been in a sce­nario where you wish your boss was com­mu­ni­cat­ing more with you? Is so, under­stand one thing, you can't always con­trol how your boss acts, but you can always con­trol the way you act. My friend had this oppor­tu­nity at her recent posi­tion, and even though her boss may not have been the best com­mu­ni­ca­tor with her, she as the sub­or­di­nate needed to make sure that she did every­thing pos­si­ble to ensure that her and her boss were at the very least see­ing eye-to-eye on things. This may not have guar­an­teed a work­ing rela­tion­ship for my friend between her and her boss (since other mit­i­gat­ing cir­cum­stances may have been occur­ring in the back­ground unbe­knownst to her), but it would have helped put the odds a lit­tle more in her favor.
Good Com­mu­ni­ca­tion is Crucial
Accord­ing to John Maxwell, in his book "21 Indis­pens­able Qual­i­ties of a Leader", com­mu­ni­ca­tion is one of the indis­pens­able qual­i­ties a leader must have. It's actu­ally in the top five in his book:
"Com­mu­ni­ca­tors take some­thing com­pli­cated and make it simple."Leaders must be able to share knowl­edge and ideas to trans­mit a sense of urgency and enthu­si­asm to others.

Com­mu­ni­ca­tion is not just what you say. It's also how you say it. The key to effec­tive com­mu­ni­ca­tion is simplicity.

Speeches = Excit­ing open­ing, dra­matic sum­mary, as close together as possible.

To become a bet­ter com­mu­ni­ca­tor, become audience-oriented. Peo­ple believe in great com­mu­ni­ca­tors because great com­mu­ni­ca­tors believe in people.

First, believe in what you say. Sec­ond, live what you say.

As you com­mu­ni­cate, never for­get that the goal of com­mu­ni­ca­tion is action.
Some More Things to Think About
I have to admit that I am a big fan of many blog arti­cles out there.  There are quite a few, espe­cially on the sub­ject of com­mu­ni­ca­tion and its impact on lead­er­ship. Below is a list of some of my favorites from the HBR (Har­vard Busi­ness Review) Blog Net­work. Many peo­ple are not aware of the HBR Blog Net­work and so I wanted to share it with my read­ers here. For those who wish they could read the Har­vard Busi­ness Review, the HBR Blog Net­work is made up of many of the same writ­ers who write and com­ment within the HBR pub­li­ca­tion. The nice thing here is that, as with all blogs, these thought pro­vok­ing arti­cles are free…Enjoy!
· Eight Com­mu­ni­ca­tion Traps that Foil Innovation
· Lis­ten­ing Is Crit­i­cal in Today's Mul­ti­cul­tural Workplace
· How to Inter­ject in a Meeting
· How to Influ­ence Deci­sion Makers
· Why Some Teams Suc­ceed (and So Many Don't)
· To Make a Strong Case, Don't Be a Data Dumper
· Learn to Ask Bet­ter Questions
· How to Han­dle Silence, the Worst Kind of Feedback
· "Don't Bring Me Prob­lems — Bring Me Solutions!"
· Why It's Bet­ter to Be Smart and Wrong than Just Silent
· Three Ques­tions to Remove Ego from Deci­sion Making
· Four Ways Lead­ers Can Stay on Top of the Issues
· Redeem­ing Your­self After a Lead­er­ship Dis­as­ter  
What has been your expe­ri­ence in the past with peo­ple who believe they are com­mu­ni­cat­ing but who in fact aren't? What advice would you have for them today? Do you see your­self as a per­son who com­mu­ni­cates well or who may need a jump­start on com­mu­ni­ca­tion 101?
Share your thoughts! We'd love to know them here!…Cheers!
Comments