Should A Leader Swear?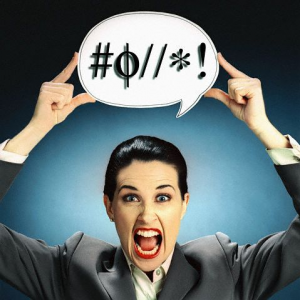 A pro­lific leader by the name of Spencer W. Kim­ball once noted: "Pro­fan­ity is the attempt of a fee­ble mind to express itself force­fully." How many peo­ple would agree with that state­ment? It's also been men­tioned that a per­son who uses pro­fan­ity to con­tin­u­ously express them­selves is only show­ing their lim­ited com­mand of basic lan­guage skills. Most, if not all lan­guages, have mul­ti­ple ways of express­ing them­selves strongly for just about any type of sit­u­a­tion with­out the use of swear­ing or the use of pro­fane lan­guage. Some­times though peo­ple find the need to cuss in order to get the point across to others.
When given the choice of using pro­fane lan­guage, some freely choose to ver­bally let loose like the most tal­ented sailor as the say­ing goes. But what good is it to cuss? It prob­a­bly can be answered by notic­ing where you're at or who is pos­si­bly around you when decide to do so.
The Case of the Cranky Debt Collector
A recent case in Texas calls atten­tion to how and when never to use pro­fan­ity. In it, a Texas man was awarded $1.5 mil­lion in puni­tive dam­ages from a col­lec­tion agency whose employee repeat­edly called the man in order to col­lect an out­stand­ing charge of just under $200. A charge that was being dis­puted as hav­ing already been paid. The issue here is that the col­lec­tion agency employee decided to not just use pro­fane lan­guage, but also to leave mul­ti­ple mes­sages using pro­fan­ity on the Texas man's answer­ing machine. It's safe to say that this col­lec­tion agency employee and the com­pany the employee work(ed) for are regret­ting the use of pro­fan­ity in the run­ning of it's services.
One inter­est­ing sce­nario that points out the "pos­i­tive of cussing" is pointed out in the arti­cle Should Lead­ers Ever Swear?:
In the most mem­o­rable scene of any aca­d­e­mic paper I've read lately, Jenk­ins, after work­ing in the pack­ing depart­ment for a cou­ple of months, uses nuclear-grade pro­fan­i­ties to chal­lenge an alpha-male co-worker, a guy named Ernest: "Well f —  – g get on with it then, you lazy —-." Other work­ers gasped, but in fact, the inci­dent led Jenk­ins to be invited to join group activ­i­ties from which he'd pre­vi­ously been excluded. "[Jenk­ins] had iden­ti­fied the pro­fane lin­guis­tic 'ini­ti­a­tion rite' for inclu­sion in the pack­ers' social group, and used it suc­cess­fully," the authors concluded.
–Dan McGinn in the HBR arti­cle "Should Lead­ers Ever Swear?"
The funny thing to me is that, sim­i­larly to the last above exam­ple, I've seen first hand the affect of using pro­fane lan­guage and it's pos­i­tive out­come (at least to one person).
At a com­pany I use to work for, many of the man­agers would hang around after work in the office and con­tinue to talk about issues and project at work. These were often the man­agers who were known as some of the key influ­encers of the com­pany. Many of them were known for mak­ing "back room deals" that would effect com­pany projects and their out­comes. Most of them were male, with only one female, who I will call Leslie for this sce­nario. What was notice­able when these man­agers stayed after nor­mal work hour to con­tinue dis­cus­sions that started ear­lier in the day is that many of them would begin to use "col­or­ful four let­ter words" in their vocab­u­lary that they wouldn't use dur­ing the day. Every so often they would stop them­selves and apol­o­gize to Leslie for the use of such lan­guage. These man­agers were Direc­tors, and Vice Pres­i­dents who would never use pro­fane lan­guage dur­ing the reg­u­lar day-time work­ing hours. But here they were doing so in the office. What was inter­est­ing to me was how they acted around Leslie when she was in the room. Going out of their way to not cuss as often. One evening, dur­ing con­ver­sa­tion Leslie decided to use a few col­or­ful words of her own and when she did so, many of the peo­ple in the room stopped what they were doing and looked at Leslie using pro­fan­ity. If I could describe the change in that room and in that group, I would not be doing it jus­tice. Why do I say that? Because as soon as Leslie showed that she could cuss with the best of them, the men in the room just relaxed and it could be seen. I never saw them relax so much with Leslie in the room after work. They started to bring her into more of the con­ver­sa­tions and ask her more often for her opin­ions and insights.
What was inter­est­ing to note in the above exam­ple with Leslie is that the only thing she did here was demon­strate that she could use pro­fan­ity her­self. She told me later on that she usu­ally doesn't use pro­fan­ity ever but every so often she'd put into a sce­nario where some need to use pro­fan­ity in order to be accepted by oth­ers. Oth­ers whom she needs to have some rap­port with in order for Leslie to do her job.
Know Your Audience!
Pro­fan­ity is not a must for a per­son to use in order to be accepted into a group they want to be accepted into. In Leslie's case, it was just with one par­tic­u­lar group where she needed to use it in order to gain some accep­tance. In another case, a per­son who we'll call John was attend­ing a local Rotary Club get-together. He was excited about attend­ing since he just moved to the area and wanted to meet some of the wheeler and deal­ers in busi­ness and human­i­tar­ian ser­vice group. Many of whom are mem­bers of the local Rotary Club. When John con­versed with peo­ple after intro­duc­ing him­self, he was very "gen­er­ous" in the use of pro­fan­ity while dis­cussing ideas, con­cerns, areas he has exper­tise in and areas where he'd like to get involved. As the evening when on, he noticed that more and more peo­ple were begin­ning to alien­ate him. Later, while touch­ing base with some­one who had attended the event, I found out that what stood out about John was not his skill, back­ground or per­son­al­ity. It was his use of pro­fan­ity. No mat­ter who he spoke with, he would drop one pro­fan­ity after another within his sen­tences. This turned many peo­ple who attended off and need­less to say, many peo­ple did not want to asso­ciate them­selves with John so readily.
There are peo­ple who would argue that a per­son has a right to use what­ever lan­guage they want. I believe that to be true. But also true is the right of a per­son to expe­ri­ence the con­se­quences (both good and bad) of the lan­guage they choose to use. One age old truth about free­dom is that the more free­dom one has, the more respon­si­bil­ity one has as well. There is no way to sep­a­rate free­dom from respon­si­bil­ity, they go hand in hand.
So the next time you are with some­one or around some­one where they can hear what you say, if you choose to use pro­fan­ity in express­ing your­self, don't be so sur­prised at how they might treat you!
Comments