Looking for Something To Do? Why Not Give Reading a Shot!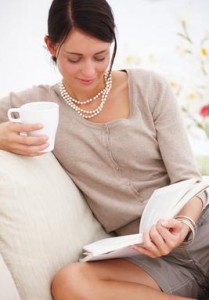 As I write this post, it's snow­ing out­side, thanks to the cour­tesy of win­ter storm Albert com­ing up the East coast. My town was for­tu­nate to only get 12 to 16 inches. Some other areas of the state got over 24 inches. Due to my injury this past sum­mer, I'm still recov­er­ing and med­ically for­bid­den from all strong twist­ing motions that may cause me to re-injure myself. What does that mean? It means I'm not allowed to shovel my own dri­ve­way and side­walk so I'm let­ting some of the neigh­bor­hood kids earn a few dol­lars shov­el­ing it for me (and no I don't own a snow­blower). In the mean­time, I'm stuck at home unable to go out until my dri­ve­way is cleared.  This made me think about what I can do with the lit­tle bit of time I have until my dri­ve­way is clear. "The secret of your future is hid­den in your daily rou­tine" is a say­ing that comes to mind. The first time I read it, I thought how pro­found yet sim­ple. The funny thing is that I rec­og­nized it to be so true. Every­one has the same 168 hours in a week. What we get out of it depends a great deal on what we do with it. At the same time, it also depends on what we don't do with it.
We all have the choice to choose what we do with our time to some extent of another. Whether it is tak­ing care of our chil­dren, going to work, tak­ing care of an errand, you name it we all have some­thing we choose to do…even if it's doing noth­ing at all.
What do you like to do when you find your­self with time on your hands?
Today I found myself look­ing at the choices of watch­ing TV or an on demand movie, read­ing a book, or catch­ing up on my emails. I decided to give myself some time read­ing a good book. I haven't been able to do that in a few days and as I started read­ing, I began to see the images of the world that the book was describ­ing and the story that was unfold­ing within its words. I read for a lit­tle bit, which for me with a good book is a few hours, and then put the book down after sav­ing my place with a book­mark. Grow­ing up so many of my friends despised read­ing and they did every­thing they could to avoid doing the read­ing assign­ments from school (Cliff Notes, Book Sum­mary Reviews, etc.). Even as an adult I know so many peo­ple who would pre­fer not to read at all if they could help it.  Of all things that a per­son can do to weaken the growth in their life, choos­ing not the read is prob­a­bly one of the worst.
"Read­ing is to the mind what exer­cise is for the body" – Sir Richard Steele
Read­ing can become addic­tive and a healthy addic­tion at that. The ben­e­fits that come from read­ing are always guar­an­teed and they always come to those who read, regard­less of whether they are con­sciously aware of them or not. It doesn't mat­ter who you are and what it is that you're read­ing, the ben­e­fits are always there, pro­vided what you're read­ing is not trash.
The most won­der­ful thing that read­ing offers is a view into another world. When you pick up a book and start read­ing it, you begin to lose your­self into it. Stud­ies have proven  that read­ing offers the mind a healthy escape from the every­day rou­tines of life and allows us to recharge our brains a bit. Read­ing offers us a chance to see the world from some­one else's eyes, thus broad­en­ing our minds to other points of view and new pos­si­bil­i­ties. Read­ing is also a great imag­i­na­tion booster and it helps to give peo­ple a bet­ter sense of cre­ativ­ity. If you ever find your­self need­ing a new idea for a project at work or sim­ply a fresh design for a new pil­low cover, all you need to do is read. It doesn't mean that you'll nec­es­sar­ily find the idea you're look­ing for in what you're read­ing, but the very act of read­ing allows the mind to wan­der into another mode of think­ing allow­ing the cre­ative reserves of your mind to flow. Read­ing has also been shown to help peo­ple with focus and concentration.
-Did you know that the aver­age Amer­i­can only reads one book a year?
-And that 60% of aver­age Amer­i­cans only get through the first chapter?
-CEOs of For­tune 500 com­pa­nies read an aver­age of four to five books a month.
Why am I say­ing this about read­ing? Because of all the things we can do to improve the qual­ity of life, read­ing has to be the most inex­pen­sive and also one of the most pow­er­ful ways to do it.
"Not all read­ers are lead­ers, but all lead­ers must be read­ers." — Harry S. Truman
"The abil­ity to read awoke inside me some long dor­mant crav­ing to be men­tally alive." — Auto­bi­og­ra­phy of Mal­colm X, 1964
"You're the same today as you'll be in five years except for the peo­ple you meet and the books you read." — Char­lie "Tremen­dous" Jones
"No mat­ter how busy you may think you are, you must find time for read­ing, or sur­ren­der your­self to self-chosen igno­rance." — Con­fu­cius
"The more you read, the more things you will know. The more that you learn, the more places you'll go." — Dr. Seuss, "I Can Read With My Eyes Shut!"
I chal­lenge every per­son who doesn't read to try the fol­low­ing: For 7 days, plan out 10 to 15 min­utes every­day to do noth­ing but read a book on some­thing you'd like to know more about. Do it at the same time each day if you can. A sim­ple way to choose a book to read is to go to a nearby Border's or Barnes and Noble and choose a book from their best seller selec­tion. These are usu­ally not expen­sive and can be bought in paper­back form (less expen­sive than hard­cover). After 7 days, see if you notice any­thing dif­fer­ent with the way your mind is. You may notice that you are more focused on cer­tain things than you usu­ally are or you may feel that you are accom­plish­ing more than you're use to accom­plish­ing. What­ever you notice, I'm will­ing to wager that you'll notice some form of pos­i­tive ben­e­fit in your life just by tak­ing a lit­tle bit of time each day to read.
What would you like to do bet­ter in your life? It's a good chance that read­ing will help!
Comments