You Can Tell a lot from a Person's Handshake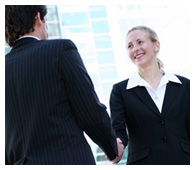 This is prob­a­bly a topic that has been beaten down so much that I'm almost embar­rassed to write about it. But I can't help it. You can tell a lot about a per­son from the way they shake hands with you. Whether they intend to let you know or not.  How can that be? How do you know if the per­son doesn't have a weak hand or some other med­ical con­di­tion pre­vent­ing them from doing any other type of hand­shake other than as though you are shak­ing hands with a piece of tis­sue paper? Or maybe the per­son does not know their own strength (which is why I can't feel my hand for a few min­utes after I shake it with him)? How can you really tell a lot about a per­son by the way they shake hands with you? Read on and I'll share some thoughts on that very topic…
A New Direc­tor, a New Boss
A num­ber of years back, I was work­ing at a large cor­po­ra­tion in a depart­ment that sup­ported a num­ber of infra­struc­ture areas. There were so many areas being cov­ered by the group that I often won­dered why all this respon­si­bil­ity was being placed under one group and not a few groups. Per­son­ally I thought there had to be changes com­ing because sooner or later some­thing was going to break and when it did, it wouldn't be pretty. Around the same time, the com­pany was begin­ning to go through some finan­cial dif­fi­cul­ties that caused the rumor mill to begin work­ing over­time. What was a main rumor topic? It was, "I hear there is a poten­tial RIF com­ing!" (RIF = Reduc­tion in Force or staff). This was enough to make many peo­ple become a lit­tle uneasy about the future of their posi­tions at the company.
Soon after employ­ees started hear­ing the buzz about a pos­si­ble RIF, the vice pres­i­dent in charge of the divi­sion I was work­ing in hired a new Direc­tor to run many of the orga­ni­za­tions includ­ing mine. Usu­ally when some­one comes into a new posi­tion of lead­er­ship, they want to make their mark in the com­pany. A way they usu­ally do that is by re-organizing the departments.
My team had an oppor­tu­nity within the next week or so to meet with the new direc­tor. Dur­ing the meet­ing he told us that he had no inten­tion of per­form­ing any re-organizations of the group I was a part of what-so-ever. He was smil­ing and sounded sin­cere. At the end of the meet­ing, when I went to shake his hand, he held my hand in a way and I almost wasn't even feel­ing his hand there. It was almost as though he really didn't want to shake my hand. More inter­est­ingly about the hand­shake was that as soon as I shook his hand, the feel­ing that this per­son was insin­cere and flat out lying to me was the first thing that flashed across my mind. Per­son­ally, I was taken com­pletely off guard to the impres­sion I received from him through his hand­shake. A sense of fear for my job at the time almost auto­mat­i­cally came over me. Don't know why, but it did. There were so many of us in the group that he actu­ally wound up shak­ing my hand a sec­ond time before we left the room. Again, my feel­ing after the first hand­shake was re-enforced. After the meet­ing, many of the peo­ple in the depart­ment and I in sep­a­rate meet­ings were dis­cussing our impres­sions about the new direc­tor. What came out? How he made them feel as they shook hands with him. They all felt the exact same thing I did.
So what hap­pened at that com­pany later on with this new direc­tor? Ten days later I come into work to dis­cover this new direc­tor has resigned and accepted a posi­tion at another com­pany closer to his home. For a per­son at that level, a new posi­tion doesn't just come about so quickly. There are numer­ous inter­views that occur before an offer is made let alone a for­mal accep­tance and con­fir­ma­tion. For me, that kind of explained the insin­cere feel­ing we all received from his hand­shake. It was pretty clear that this new direc­tor had no inten­tion of stay­ing with my com­pany. He was sim­ply buy­ing his time with a pay­check to cover his imme­di­ate expenses until a bet­ter deal for him came about and there was already some­thing in the works for him before he started with my company.
Types of Hand­shakes and What They (May) Say About You
Below are some forms of hand­shakes and what they often say about a per­son. Please note though that hand­shake expec­ta­tion dif­fers depend­ing upon the cul­ture the exchange is occur­ring in. With that said, the infor­ma­tion below is based upon most West­ern cul­tures. Even within West­ern cul­tures, spe­cific com­mu­nity groups may have their own views on what is proper and what is not for a hand­shake (e.g. It's con­sid­ered rude and com­pletely unac­cept­able for a man to offer a hand­shake to a Hasidic Jew­ish woman if he is not the woman's husband).
The Lin­ger­ing Hand Shake: A stan­dard hand shake with an extra few shakes and hold­ing on for just a few sec­onds. I find this often hap­pens when old friends meet or with a good bye to some­one dear. Among busi­ness peo­ple, it can give a bit of a chance to com­mu­ni­cate pos­i­tive thoughts. Make sure to only do this with some­one you know very well or else it can be taken in a com­pletely wrong way.
The Water Pump: Sim­i­lar to the lin­ger­ing hand shake. With a water pump hand­shake, the per­son gets a hold of you and then they will pump your arm as if they are attempt­ing to pump water out of an old fash­ioned faucet. Often, a water pumper will pump your hand any­where from seven to ten times to even fif­teen times before they stop. Once they stop pump­ing, they usu­ally hold onto your hand until you work it out of their grasp. Usu­ally accom­plished by pulling away forcefully.
The Push Off: This is when at the end of the hand­shake your hand is pushed away. It may be sub­tle but it could be read as a neg­a­tive mes­sage by the per­son on the receiv­ing end of the push.
The Pull In: The hand­shakes results in one pulling the other closer. This often speaks of a con­trol­ling body lan­guage. How would you feel if some­one pulled you closer to them while shak­ing your hand?
The Supe­rior: If offered first palm down, it indi­cates supe­ri­or­ity. It is the body lan­guage of a con­trol­ling person.
The Lesser: If offered first, palm up, it could indi­cate humil­ity and that a per­son is there to serve.
The Fin­ger Cruncher: Rather than grab­bing across the palm, the fin­gers are grabbed and crushed. Is it sporty to give pain some­one else a lit­tle pain dur­ing a hand­shake? This one can be painful. The per­son who does the fin­ger cruncher will say they can't judge their own strength but if you pay atten­tion, note that they won't do this while shak­ing a woman's hand.
The Bone Cruncher: Much like the fin­ger cruncher, the same vice like grip is around the hand. Enough said. Please see com­ment to the Fin­ger Cruncher above.
The Palm Pincher: This is usu­ally from a woman, and only a few fin­gers and thumb grasp the palm for the shake. This is actu­ally the norm for a woman in some cul­tures. If a man shook your hand this way, it could be taken as being from a per­son who does not want to shake hands with you. Insin­cer­ity can often pop into a person's head when a man shakes hands this way.
The Twister: This may start off as a nor­mal shake but ends up with one twist­ing and putting the other on top. Some­times a per­son is mean­ing to show warmth of empa­thy with this type of hand­shake, but quite often it's inter­preted to show a per­son to be of a con­trol­ling per­son­al­ity. Espe­cially if it is incor­po­rated with a pull in by the shak­ing hand prior to the other hand going on top. This type of hand­shake can also be seen as intru­sive, or sim­ply too personal.
The Dead Fish: This is one of my least favorites of all! It's a cold, unemo­tional, some­times wet shak­ing of hands. It is basi­cally the def­i­n­i­tion of com­plete indif­fer­ence towards the per­son they are shak­ing hands with. (Note: There are times when the per­son giv­ing a "dead fish" type hand­shake may have a phys­i­cal aiment giv­ing them an inabil­ity to grip a person's hand any stronger.)
The Left Handed Shake: Those that give a left-handed hand­shake are seen as at the very least a lit­tle strange and at the most as down-right insult­ing. To some peo­ple it's as bad as spit­ting in their face. Want to know why? In some cul­tures, you wipe your back­side with your left hand. In many west­ern cul­tures this is seen as a sign of com­plete dis­re­spect to the other per­son so why would you do it in the first place.
There are just a few of the dif­fer­ent types of hand­shakes out there. What are some com­ments or exam­ples of hand­shakes that you've seen and experienced?
Cheers!
Gil
Comments