Sleep…Is It Really All that It's Cracked Up To Be?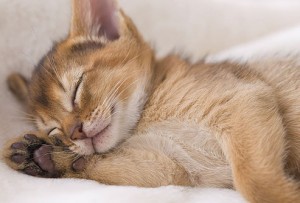 Sleep. Now there's a word that many peo­ple work­ing today wish they had more of. If you're one such per­son who wishes they had more time to sleep (I'm rais­ing my hand here too), then know that you're part of a grow­ing group that believes they just have to deal with not get­ting enough sleep.  With the ever increas­ing com­plex­ity of people's lives over the last few decades, it may appear that we are just doomed to putting up with feel­ing a lit­tle tired all the time. But how true is that? Do we really have to deal with not get­ting the amount of sleep that we need? Can we really learn to func­tion on less sleep than we may actu­ally need?  How much sleep is enough? Is how sleepy we feel a good judge of whether or not we are get­ting enough sleep?
You Can't Han­dle the Truth!  (Jack Nicol­son as Col. Jes­sup in "A Few Good Men")
How do we know if we are get­ting the min­i­mum amount of sleep in order to func­tion? Accord­ing to the Amer­i­can Acad­emy of Sleep Med­i­cine (AASM), the fol­low­ing are signs that you are def­i­nitely not get­ting enough sleep:
You have a hard time pay­ing atten­tion dur­ing meetings.
You feel tired and lack energy dur­ing the day.
You are unmo­ti­vated and have trou­ble "get­ting going."
You need to use an alarm clock to wake up on time in the morning.
You are irri­ta­ble, grumpy or lose your tem­per easily.
You start to doze off when you are dri­ving a car. (DANGEROUS!!!)
A poll con­ducted in 2005 by the National Sleep Foun­da­tion showed Amer­i­cans aver­aged about 6.9 hours of sleep per night. This rep­re­sents a drop of about two hours per night since the 19th cen­tury, one hour per night over the past 50 years, roughly 15 to 25 min­utes per night since 2001. In another study done at the Uni­ver­sity of Penn­syl­va­nia, inves­ti­ga­tors found that sub­jects who slept four to six hours a night for four­teen con­sec­u­tive nights showed sig­nif­i­cant deficits in cog­ni­tive per­for­mance equiv­a­lent to going with­out sleep for up to three days in a row.
How would you like to go to work (or lead a group, or attend a busi­ness and/or social func­tion for that mat­ter) on the equiv­a­lent of not hav­ing gone to sleep for two or three days!?!
So What Can We Do?
The world we live in is an excit­ing and won­der­ful place to be. The means of com­mu­ni­ca­tion, travel, the shar­ing of ideas and images has never been as easy and read­ily avail­able as it is today. Because of this, it's also a very fast and com­plex world that demands more and more of our time and energy. In order to func­tion well we all need to rest well.
Sleep hygiene is defined as "the con­trol­ling of all behav­ioral and envi­ron­men­tal fac­tors that pre­cede sleep and may inter­fere with sleep." It's the prac­tice of fol­low­ing guide­lines in an attempt to ensure more rest­ful, effec­tive sleep which can pro­mote day­time alert­ness and help treat or avoid cer­tain kinds of sleep dis­or­ders. Trou­ble sleep­ing and day­time sleepi­ness can be indi­ca­tions of poor sleep hygiene (Wikipedia).
Below are some excel­lent tips (pro­vided by AASM) for get­ting a bet­ter night's rest:
Don't go to bed unless you are sleepy.
If you are not sleepy at bed­time, then do some­thing else. Read a book, lis­ten to soft music or browse through a mag­a­zine. Find some­thing relax­ing, but not stim­u­lat­ing, to take your mind off of wor­ries about sleep. This will relax your body and dis­tract your mind.
If you are not asleep after 20 min­utes, then get out of the bed.
Find some­thing else to do that will make you feel relaxed. If you can, do this in another room. Your bed­room should be where you go to sleep. It is not a place to go when you are bored. Once you feel sleepy again, go back to bed.
Begin rit­u­als that help you relax each night before bed.
This can include such things as a warm bath, light snack or a few min­utes of reading.
Get up at the same time every morn­ing.
Do this even on week­ends and holidays.
Get a full night's sleep on a reg­u­lar basis.
Get enough sleep so that you feel well-rested nearly every day.
Avoid tak­ing naps if you can.
If you must take a nap, try to keep it short (less than one hour). Never take a nap after 3 p.m.
Keep a reg­u­lar sched­ule.
Reg­u­lar times for meals, med­ica­tions, chores, and other activ­i­ties help keep the inner body clock run­ning smoothly.
Don't read, write, eat, watch TV, talk on the phone, or play cards in bed.           
Do not have any caf­feine after lunch.           
Do not have a beer, a glass of wine, or any other alco­hol within six hours of your bedtime.           
Do not have a cig­a­rette or any other source of nico­tine before bedtime.           
Do not go to bed hun­gry, but don't eat a big meal near bed­time either.           
Avoid any tough exer­cise within six hours of your bed­time.
You should exer­cise on a reg­u­lar basis, but do it ear­lier in the day. (Talk to your doc­tor before you begin an exer­cise program.)
Avoid sleep­ing pills, or use them cau­tiously.
Most doc­tors do not pre­scribe sleep­ing pills for peri­ods of more than three weeks. Do not drink alco­hol while tak­ing sleep­ing pills.
Try to get rid of or deal with things that make you worry.
If you are unable to do this, then find a time dur­ing the day to get all of your wor­ries out of your sys­tem. Your bed is a place to rest, not a place to worry.
Make your bed­room quiet, dark, and a lit­tle bit cool.
An easy way to remem­ber this: it should remind you of a cave. While this may not sound roman­tic, it seems to work for bats. Bats are cham­pion sleep­ers. They get about 16 hours of sleep each day. Maybe it's because they sleep in dark, cool caves.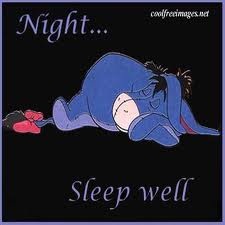 Have you ever gone through a day wish­ing that you had got­ten more sleep?
What are some ways you relax at the end of the day (let's keep it clean here. This is a fam­ily friendly blog 😎 )?
What are your thoughts on how much sleep we are or aren't get­ting today?
Comments