Sometimes It Comes Down to a Choice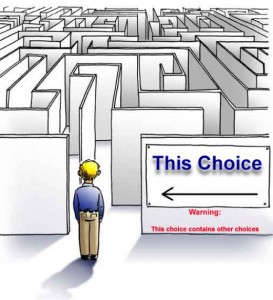 Last week I was fortunate enough to be a participant in a two day leadership retreat. I was one of among thirty or so regional leaders chosen for a year long training program where participants will be involved in the development of a community based project. The two day leadership retreat was the first time everyone involved in the year long training program would be getting together. When I found out that I was going to be one of the people chosen to go through the course, I was really happy and looking forward to being part of the group. That was back in November of last year.
As the time for the retreat come closer, I began to think about how the retreat would be handled by the staff organizing it. After all it was suppose to be the first in a series of learning workshops for the coming year and the tone of the first program in the process would most likely be the tone to expect in future trainings. For me, not knowing what to really expect caused a little bit of anxiety for me but at the same time I still was greatly looking forward to it.
The location of the two day retreat was just over an hour from where I live. People in the group had the option of going to the retreat center on a private coach rented by the organization holding the retreat, or to go by car. Since the organizers hinted that the retreat would actually be starting on the bus on the way over I chose to take the bus ride. I will say it was a fun bus ride, I got to learn about some of the people who were going on the retreat with me. Coincidentally, one person I got to know was actually someone I was communicating with via the social media world. Thomas Clifford is more known to many in the northeast as "Director Tom". For those of you who don't know him, check out his blog!
Once we all got to where we would be spending the next two days, we got to work on various team building, leadership development and personal self-awareness exercises. There was also plenty of instruction given on the various areas of leadership to complement the exercises. For me, some of the facilitation seemed to almost cross the line of sounding as though they were facilitating to grammar school children. Author's personal note: I'm not the type of personality that takes very well to a learning environment where instructors sound as though they are speaking to grammar school children. But given the number of people that were there (two to three facilitators for thirty to forty participants) each with a distinct personality, it would be difficult for anyone's teaching style to please or be taken well by everyone.
I Needed to Make a Choice
Being that I was chosen to participate in the group, and the year long leadership training that went along with it, I chose to keep one very important aspect…an open mind. That said, the next two days turned out to be very eye-opening to me. Why? Because I was able to get a much better understanding about others as well as myself. Not saying that it was some sort of religious experience necessarily, but I did learn a great deal more than I expected. Looking back now in retrospect, I would not have been able to get as much out of those two days or learn as much as I did if I didn't choose to keep an open mind and listen to what others had to say. That alone taught me the most because how many things would I have missed or have go over my head if a decided to keep a closed mind (remember I mentioned earlier that I was interpreting the teaching style of some of the facilitators as "grammar school teaching style" like).
Do you remember a time when you decided to keep your mind closed when someone was telling you something you didn't agree with or believe? Was it possible that you missed an important lesson in the process? Do you remember a time when you chose to keep an open mind when someone was telling you something you didn't believe or agree with?  I guess it can be more comforting to think YOUR way is the only right way…they say ignorance is bliss. But at what cost? 😉
Comments