Sometimes It Comes Down to a Choice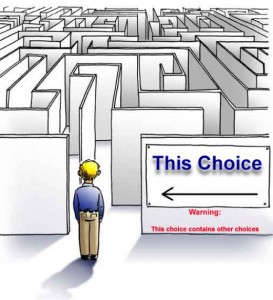 Last week I was for­tu­nate enough to be a par­tic­i­pant in a two day lead­er­ship retreat. I was one of among thirty or so regional lead­ers cho­sen for a year long train­ing pro­gram where par­tic­i­pants will be involved in the devel­op­ment of a com­mu­nity based project. The two day lead­er­ship retreat was the first time every­one involved in the year long train­ing pro­gram would be get­ting together. When I found out that I was going to be one of the peo­ple cho­sen to go through the course, I was really happy and look­ing for­ward to being part of the group. That was back in Novem­ber of last year.
As the time for the retreat come closer, I began to think about how the retreat would be han­dled by the staff orga­niz­ing it. After all it was sup­pose to be the first in a series of learn­ing work­shops for the com­ing year and the tone of the first pro­gram in the process would most likely be the tone to expect in future train­ings. For me, not know­ing what to really expect caused a lit­tle bit of anx­i­ety for me but at the same time I still was greatly look­ing for­ward to it.
The loca­tion of the two day retreat was just over an hour from where I live. Peo­ple in the group had the option of going to the retreat cen­ter on a pri­vate coach rented by the orga­ni­za­tion hold­ing the retreat, or to go by car. Since the orga­niz­ers hinted that the retreat would actu­ally be start­ing on the bus on the way over I chose to take the bus ride. I will say it was a fun bus ride, I got to learn about some of the peo­ple who were going on the retreat with me. Coin­ci­den­tally, one per­son I got to know was actu­ally some­one I was com­mu­ni­cat­ing with via the social media world. Thomas Clif­ford is more known to many in the north­east as "Direc­tor Tom". For those of you who don't know him, check out his blog!
Once we all got to where we would be spend­ing the next two days, we got to work on var­i­ous team build­ing, lead­er­ship devel­op­ment and per­sonal self-awareness exer­cises. There was also plenty of instruc­tion given on the var­i­ous areas of lead­er­ship to com­ple­ment the exer­cises. For me, some of the facil­i­ta­tion seemed to almost cross the line of sound­ing as though they were facil­i­tat­ing to gram­mar school chil­dren. Author's per­sonal note: I'm not the type of per­son­al­ity that takes very well to a learn­ing envi­ron­ment where instruc­tors sound as though they are speak­ing to gram­mar school chil­dren. But given the num­ber of peo­ple that were there (two to three facil­i­ta­tors for thirty to forty par­tic­i­pants) each with a dis­tinct per­son­al­ity, it would be dif­fi­cult for anyone's teach­ing style to please or be taken well by everyone.
I Needed to Make a Choice
Being that I was cho­sen to par­tic­i­pate in the group, and the year long lead­er­ship train­ing that went along with it, I chose to keep one very impor­tant aspect…an open mind. That said, the next two days turned out to be very eye-opening to me. Why? Because I was able to get a much bet­ter under­stand­ing about oth­ers as well as myself. Not say­ing that it was some sort of reli­gious expe­ri­ence nec­es­sar­ily, but I did learn a great deal more than I expected. Look­ing back now in ret­ro­spect, I would not have been able to get as much out of those two days or learn as much as I did if I didn't choose to keep an open mind and lis­ten to what oth­ers had to say. That alone taught me the most because how many things would I have missed or have go over my head if a decided to keep a closed mind (remem­ber I men­tioned ear­lier that I was inter­pret­ing the teach­ing style of some of the facil­i­ta­tors as "gram­mar school teach­ing style" like).
Do you remem­ber a time when you decided to keep your mind closed when some­one was telling you some­thing you didn't agree with or believe? Was it pos­si­ble that you missed an impor­tant les­son in the process? Do you remem­ber a time when you chose to keep an open mind when some­one was telling you some­thing you didn't believe or agree with?  I guess it can be more com­fort­ing to think YOUR way is the only right way…they say igno­rance is bliss. But at what cost? 😉
Comments