If You're Not Where You Thought You'd Be at This Time in Your Career…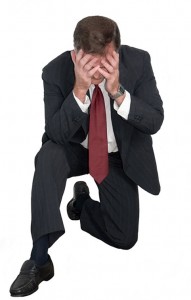 If you're not where you thought you'd be in your career at this moment, then you need to ask your­self some tough ques­tions and decide for your­self what you need to change in order to move closer to where you want to be.
The other day over lunch, a col­league of mine asked me what steps I took to get to where I am in my career. At first I was a lit­tle puz­zled by the ques­tion com­ing from him. William has always given me the impres­sion of being a "go for it" type of guy. When I asked him what he meant by the ques­tion, he told me that he wasn't where he thought he would be at this point in his career and wanted to know what I did in order to get to where I was in mine. This was really an inter­est­ing ques­tion to me com­ing from him. Here we were, 10 years after hav­ing orig­i­nally met at a pre­vi­ous orga­ni­za­tion where we both worked at he was an Ana­lyst (the role he was in when we orig­i­nally met) and I was now a Senior Director.
When we met, he was in process of com­plet­ing his MBA and I was in process of apply­ing to an MBA pro­gram. He even­tu­ally went on to fin­ish his MBA two years before I com­pleted mine.
This sce­nario made me quickly look at the com­par­i­son between peo­ple who are where they thought they'd be at this point in their career and those that weren't.  After some fur­ther con­ver­sa­tion on the sub­ject with William, some rea­sons why he was where he was and why I was where I am began to come to the surface:
Hav­ing a Vision of Where You Want to Be
Hav­ing a vision of where you want to be is by no doubt extremely impor­tant. With­out it, a per­son is basi­cally play­ing Russ­ian roulette with their life's jour­ney.   What is a Vision? Fun­da­men­tally for a com­pany or orga­ni­za­tion, it shows its desired or intended future state in terms of its objec­tive and/or strate­gic direc­tion. Vision is a long term view, some­times describ­ing how the orga­ni­za­tion would like the world in which it oper­ates to be. For a per­son, when it comes to their career, it is the view of where they want to be in life. There is a strong truth to the saying:
 "Aim for the Moon, 'cause even if you miss, you'll land among the stars"
When it came to the con­cept of vision, William appeared to not have an answer to that ques­tion when I asked him about his vision. My vision for me has always been crys­tal clear for me. It's ok to adjust it a lit­tle every now and then in order to make it clearer, but don't lower your expec­ta­tion within your vision or else you'll fall into the life trap of conformity.
Proac­tive vs. Reactive
It's been my expe­ri­ence that when a per­son is more proac­tive, they have a greater chance of get­ting what they desire out of life than a per­son who chooses to be more reac­tive. Going back to the chat with William, I men­tioned that the com­pany he worked at was known for hav­ing a large amount of resources avail­able online so it hap­pens.  Peo­ple that work there could learn or enhance key skills that would help them grow in their career but search­ing online on the company's inter­nal online net­work.  I even gave an exam­ple of some­one who found, and was in the process of going through, a man­age­ment cer­ti­fi­ca­tion pro­gram online at the com­pany. William's ini­tial com­ment was more of clar­i­fi­ca­tion ques­tion, "You mean this is avail­able to all employ­ees there, includ­ing me?"  I said yes, via the company's intranet (inter­nal inter­net sys­tem). But what was his com­ment to that? It was, "You mean you have to go out there and find it your­self!?!"  I sat there for a moment, a lit­tle stunned in all hon­esty, and then said yes. His next com­ment was even more of a stun­ner for me com­ing from some­one whom I had known as a go-getter type of guy. "You mean no one shows you where these things are online, they just expect us to find this our­selves!?!"  I had told them there are links to this infor­ma­tion on the first page of the company's employee at which his reac­tion was that that's not enough.
I may have been think­ing a lit­tle too crit­i­cal of him at this moment, but our other col­league at the table with us had a look on his face when he looked at him and then me that I found out later was a look of "I can't believe William is hon­estly hav­ing a prob­lem with accept­ing that you have to go and look for ways to develop your­self with­out expect­ing some­one to always be hold­ing you hand!"  These were my thoughts exactly.
What (con­struc­tive) advice would you give to William if you were me?   
Comments