That New Year's Resolution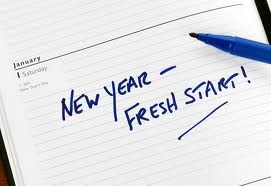 A new year has begun and a count­less list of New Year's res­o­lu­tions have been made by many. A large num­ber of those res­o­lu­tions won't last the month! OK, I admit I tend to be opti­mistic about peo­ple (because many will tell me that most New Year's res­o­lu­tions don't last the first week).  Res­o­lu­tions are great deci­sions that peo­ple usu­ally com­mit to in order to change their life or the life of some­one else for the bet­ter. So why do so many "for­get" or "lose track of" what­ever it is they said they were going to do? I'm sure you've never been one of those peo­ple. 😉 Admit it. We're all guilty of not com­mit­ting to the res­o­lu­tions we've sup­pos­edly com­mit­ted to. But why is that? It's simple…a sin­cere pas­sion for it is miss­ing. It's so much eas­ier to com­mit to a change that can help you fol­low your passion…whatever that pas­sion may be.
Prin­ci­ple: Fol­low Your Heart
I'm sure this is not the first time you're see­ing the above phrase. If it is, then I'm glad it's being intro­duced to you here. If you have seen it before, I hope you under­stand what it means. Early in my career, I thought I under­stood what it meant, but I dis­cov­ered that I didn't really. At first I always focused my edu­ca­tion on help­ing me get the job that would make me the most money. When I started along that track, I dis­cov­ered that even though I was begin­ning to make some seri­ous bucks, I wasn't feel­ing ful­filled. If I kept on that track, I knew I would end up in a place I didn't want to be at in the future. So, I decided to go into another type of field where I felt I made more of a dif­fer­ence. That helped me to feel bet­ter about what I was doing.  That feel­ing that one gets when they are fol­low­ing their heart is a per­sonal feel­ing that only you can know how it feels when you're on the right path for yourself
How do you know you've found your pas­sion? Find some­thing you love to do so much, you can't wait for the sun to rise to do it all over again. Con­nect­ing your New Year's res­o­lu­tion to some­thing you're pas­sion­ate about will help in achiev­ing your goal.
Prin­ci­ple: Do Not Fool Yourself!
By fool­ing your­self, I'm talk­ing about mak­ing your­self believe some­thing in order to avoid some­thing you know you need to do.  This prin­ci­ple for help­ing to stick to the com­mit­ments you made to your­self is a short and sim­ple, yet pow­er­ful one. It's a prin­ci­ple that all of us at one point or another have used to ratio­nal­ize our­selves out of doing some­thing we needed to do (e.g. I can have one more ice cream 'cause I've had a very stress­ful week).
If you want to suc­ceed in what you've com­mit­ted your­self to do, be hon­est with your­self. Don't fool your­self into not fol­low­ing your pas­sion. Ear­lier in this post I briefly described how I was not on a path in my career where I would be per­son­ally ful­filled. I was orig­i­nally fool­ing myself into allow­ing money be the focus of my occu­pa­tion. Had I not real­ized that I was fool­ing myself, I would still be doing some­thing that I didn't want to do and thus, would still feel as though I was miss­ing some­thing in my life.
Prin­ci­ple: Baby Steps
Ah! Here is the old adage about tak­ing baby steps. If one of your goals is to read more books rather than watch­ing TV or surf­ing the inter­net, why not start by read­ing no more than 15 min­utes in the morn­ing or at night before going to bed? There was a time not so long ago when read­ing for fif­teen min­utes felt to me like three days…in fif­teen min­utes. Oh it was bru­tal for me! I was read­ing so slow it would take me 15 min­utes to read one or two pages of a paper­back. No fooling…I was bad! I did man­age to over­come this by tak­ing baby steps. First I made it a point to read one page and then stop for a minute and then read the next page. I'd read the sec­ond page and then stop for a minute before I con­tin­ued. This allowed me to not get as bored with read­ing as I would've had I read straight thru at first. Over the next few weeks I began to notice that I was read­ing faster and not get­ting as bored read­ing as I was when I first started. In time I was read­ing two, then three and four pages a minute.  Today, I find read­ing fun and can­not imag­ine myself fin­ish­ing the day with­out reading.
Do You Know Someone…?
Do you know of any­one who has a pas­sion for some­thing? If you believe you do know some­one like that, observe them.  Do they appear to have more enthu­si­asm, energy, and excite­ment than oth­ers? Do you find that they often appear to be cre­ative in what they are pas­sion­ate about? They appear to come up with really unique and yet sim­ple ideas?
Do you know some­one who suc­ceeded at los­ing the weight they wanted to lose? Ask them how they did it? Did they quit eat­ing every­thing that was bad for them and going to the gym six to seven days a week or did they take baby steps to reduce or change the types of foods they were eating?
Do you know of some­one who suc­ceeded in what­ever they chose to com­mit to last year? Look back on how they did it? Did they use some of the above aspects to suc­ceed at what they chose to com­mit to?
What are some ways that you believe will help you suc­ceed at achiev­ing your goals for the new year?
Comments