Viewing Responsibilities: Obligation or Opportunity?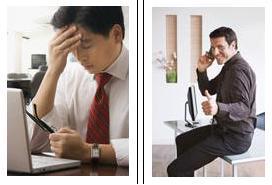 Do you enjoy get­ting involved with oth­ers for a cause? A busi­ness project? Or some other under­tak­ing? I've enjoyed get­ting involved in many orga­ni­za­tions and help­ing oth­ers suc­ceed in their endeav­ors for a while. Whether it is in busi­ness, in a com­mu­nity project or in a per­sonal mat­ter, being able to make a pos­i­tive dif­fer­ence in some­one else's life has been a reward­ing expe­ri­ence for me. Unfor­tu­nately, that wasn't always the case. There have been many instances where I've felt that I've worn myself too thin with all of my respon­si­bil­i­ties. Have you ever expe­ri­enced that? Have you ever gone from a feel­ing of look­ing for­ward to being involved to not car­ing as much as you know you should? Not want­ing to answer the phone when­ever it rang? Ignor­ing emails? If you have, let me share one of the main things that helped me over­come that feeling.
I started to look at what hap­pens to me as an oppor­tu­nity, rather than an oblig­a­tion. When I did so, I was star­tled to see how it made all the dif­fer­ence in the world! In the past, when­ever I felt myself being pulled in all direc­tions or sim­ply being worn thin, I would with­draw from many of the things that I was doing. Instead of focus­ing on what I needed to do and what I was respon­si­ble for, I would begin to ignore phone calls and emails from var­i­ous peo­ple for days on end. You can imag­ine what that did to my cred­i­bil­ity at the time. Not get­ting back to peo­ple when they expect you to con­tribute is a sure fire way to reduce your integrity and the value of your per­sonal brand.
Decid­ing to Look at Respon­si­bil­i­ties as an Opportunity
Look­ing at lead­ers and peo­ple of influ­ence, I wanted to know how they were able to be respon­si­ble for so much and at the same time get so many things done. My intel­lect told me "if they can do it, so can I." I just didn't under­stand how they did it. After speak­ing with a cou­ple of my men­tors, and con­sult­ing with some of my vir­tual men­tors as well (books), I real­ized a com­mon theme among many of the peo­ple able to get things done while being respon­si­ble for so much:
All of these peo­ple looked at their respon­si­bil­i­ties as an oppor­tu­nity and not an obligation.
They saw their respon­si­bil­i­ties as oppor­tu­ni­ties to help some­one, to influ­ence, to learn, to encour­age. After learn­ing this, I also noticed a com­mon theme among peo­ple who did not look at their respon­si­bil­i­ties as an oppor­tu­nity. Those that saw their tasks as oblig­a­tions wanted the task at hand to be done as quickly as pos­si­ble, with lit­tle or no regard to the out­come. These same peo­ple also had a ten­dency to not like what they were doing with their lives at all. This was some­thing I chose not to let hap­pen to me. Life is sim­ply too short to allow such feel­ings to over­come it. I made a deci­sion to see my respon­si­bil­i­ties as oppor­tu­ni­ties to make a pos­i­tive difference.
You Can't Always Con­trol What Hap­pens to You, but You Can Def­i­nitely Con­trol the Way You React to It
Accord­ing to psy­cho­log­i­cal stud­ies, when peo­ple feel pres­sured or has­sled, they tend to look at their cir­cum­stances as oblig­a­tions. Oblig­a­tions, by their very nature, are oppres­sive. We have to do them whether we want to or not and that sense of oblig­a­tion is rarely a moti­vat­ing force for a per­son, myself included.
I decided to place a sign at my desk for me to see every time I sit down at it. The sign says, "Oppor­tu­ni­ties or Oblig­a­tions; what can I do with the oppor­tu­ni­ties I have in my hand today?" For me, this ques­tion helps to remind me to view respon­si­bil­i­ties as oppor­tu­ni­ties to do more, to learn, to grow. Inter­est­ingly enough, I found myself want­ing to inter­act with the peo­ple and the world around me more not because I had to, but because I wanted to. This was a big shift in my think­ing at the time and it made me real­ize how impor­tant our per­sonal view­point is. Now I view my respon­si­bil­i­ties as oppor­tu­ni­ties and that has made all the dif­fer­ence in the world because it has con­tributed to me being a bet­ter friend, a bet­ter col­league, a bet­ter hus­band, and a bet­ter leader.
How do you view your respon­si­bil­i­ties? Do you see them as sim­ply an oblig­a­tion or as an oppor­tu­nity? Share you thoughts!
Comments