Is Someone Shooting Down Your Ideas?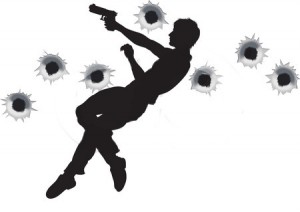 Beware of the four gallingly com­mon strate­gies that peo­ple use to shoot down a person's ideas. These tac­tics are all the more com­mon against a per­son who's been iden­ti­fied as a leader within their organization…but why?  In the world we're in, there are many peo­ple who unfor­tu­nately don't like to think about how to solve a par­tic­u­lar issue. They'd rather do what is prob­a­bly the sim­plest thing a per­son can do.  Point out what may be wrong with an idea with­out giv­ing an alter­nate solu­tion for the prob­lem the idea is attempt­ing to address. I'm sure you've prob­a­bly never wit­nessed such a scenario.
I always think back to the first time I read about an inter­view with the great states­man Dr. Albert Schweitzer where he was asked the ques­tion of what's wrong with men today. His answer, "Men sim­ply don't think."  (Note: My last two sen­tences where not meant to give a fem­i­nist any extra fod­der against men out there, the answer was given by a famous per­son who hap­pened to be a man as well.8-) )
The four strate­gies that I've seen peo­ple often use to shoot down a person's ideas are:
(1)    Death by delay
(2)    Con­fu­sion
(3)    Fear Mongering
(4)    Ridicule
These four types of "attacks" on a person's ideas are often done through a cou­ple of dozen ques­tions, com­ments, and/or argu­ments. Any one of these ques­tions can cause an unsus­pect­ing per­son to cave in and give up on their idea.
We tried that before and it didn't work (<– this one is one of my per­sonal favorites).
No one else does this, why should we try it really.
You can't have it both ways.
Ah! What about THIS? ["this" being a wor­ri­some thing that the pro­posers know noth­ing about and the attack­ers keep secret until just the right moment].
Good idea, but the tim­ing is all wrong.
It's too much work to do this.
It won't work here. We have a unique situation.
It puts us on a slip­pery slope.
We sim­ply can't afford this. / It's just too expensive.
You'll never con­vince enough people.
You're aban­don­ing our core values.
It's too sim­plis­tic to work. / It sounds too simple.
Sounds like [some­thing hor­ri­ble] to me!
Peo­ple have too many con­cerns to do that.
It's too dif­fi­cult to understand.
You have a chicken and egg prob­lem here.
Your pro­posal doesn't go far enough/your pro­posal goes too far.
We're sim­ply not equipped to do this.
Money [or some other prob­lem a pro­posal does not address] is the real issue here.
You're exag­ger­at­ing the problem.
You imply that we've been failing!
What's the hid­den agenda here?
What about this, and that, and this, and that…?
We've been so suc­cess­ful. Why should we change? (if it's not bro­ken, why fix it?)
What's Your Response?
One of the more com­mon responses peo­ple often do to is often the first thing they should not it they want to suc­ceed with their idea. All too often peo­ple push out the 'trou­ble­mak­ers'. Why do that? Here is a golden oppor­tu­nity. Why not just let them in and treat them with respect. Allow them to always be part of the solu­tion. Lis­ten to their con­cerns and crit­i­cism. The oppo­site of respect in that sit­u­a­tion is shoot­ing back. If you start shoot­ing back at a per­son who is crit­i­ciz­ing you, oth­ers will see that you are shoot­ing at them and may become sym­pa­thetic to the other per­son even if his attack wasn't fair!
Another type of response that often back­fires is drown­ing a per­son in a half-hour's worth of evi­dence. Drilling them basi­cally into the ground with infor­ma­tion as to why your idea is a good one that will def­i­nitely work. It's bet­ter to com­mu­ni­cate in ways that are sim­ple, clear, short and to the point. Research by authors John P. Kot­ter and Lorne A. White­head had shown that the most effec­tive peo­ple, instead of just spray­ing ver­bal bul­lets, respond in a way that is sim­ple, clear and filled with com­mon sense.
Never let it get per­sonal, no mat­ter how much you want to lash out.  Just under­stand that the per­son is really attack­ing the idea, not you. Keep an eye on the entire audi­ence and not just the one critic. It's very easy to get hung up on the guy who's attack­ing your idea.
Last Words…
The say­ing that states, "He who laughs last, laughs best!" is not one that I agree with. The phrase that often is more accu­rate to me is, "He who laughs last, doesn't really need to laugh at all!" He lets his idea prove him right.
When one has an idea, it's never sim­ply the idea that makes it to be a work­ing idea. One thing is to be able to gen­er­ate an idea by dig­ging up data, ana­lyz­ing it, and putting it together in some form of log­i­cal way. But it's another thing all together to gain the sup­port one needs in order to get the idea off the ground and working!
Cheers!
Gil
Comments