Choosing Your Attitude; A Recent Personal Experience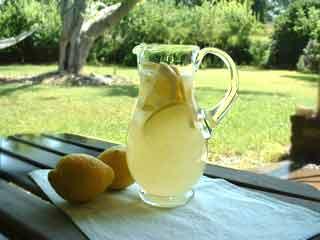 I'm sure many of you have heard the saying "When life gives you lemons…make lemonade". Well for those of you who know me, you know that I enjoy working out and staying in shape. Some of my personal exercise passions include running, weight and resistance training, and martial arts. Recently, I injured myself while working out in the gym. The injury wound up to be a partial tear of both my right iliopsoas (hip-flexor) and my lower rectus-abdominis (the six pack muscle). Don't ask me how I did it. Let's just say that even though I had been working out already for over 40 minutes, and was more than warmed up, one wrong angle on a particular exercise can make all the difference. Needless to say, the injury put me out of being able to work out at all until the injury is healed. The injury didn't even allow me to drive a car!
That was a recent lemon that life gave me and it's now about a month ago. I'm still not allowed to work out or drive a car until I've gone through a certain amount of physical therapy.  According to the sports orthopedic doctors who've examined me, this type of injury could take between six months to a year to heal…UGH!

Not being able to work out, run or do martial arts is shear torture for me! On top of that, I also enjoy eating various types of foods. The food I enjoy may be healthy for the most part, but food none the less. Without the ability to be as physically active, the amount of calories my body needs has gone way down. If I continued to eat the way I was before my injury, I would for sure pack on the pounds!
What Do I Do Now? Importance Choosing Your Attitude
So what did I do with the lemon I got thrown?  I could've complained, gone into a bout of self-pity with a negative attitude, but I chose not to!  I decided on maintaining a positive attitude. To do something more productive with the time I now had by doing something I never did before. I started a blog. In addition, I started to read many other people's blogs as well.
What I did not expect was how much joy creating a blog, adding to a blog and reading other people's blogs would be. In the past month I've met a lot of great individuals and groups online. I've been able to share experiences, discuss topics of interests and learn from people who I did not even know a couple of months ago. Now I look forward to adding to my blog, commenting on other blogs and sharing ideas. Choosing your attitude is so important. For me, this was the lemonade I chose to make with the lemon I got and it's opened up an entire new world that I otherwise would not have known.
An Inspiration
A personal favorite of mine is the New York Times best seller "No Excuses: The True Story of a Congenital Amputee Who Became a Champion in Wrestling and in Life" by Kyle Maynard. Kyle is a congenital amputee who was born with arms that end just above the elbow and legs that end at the knees.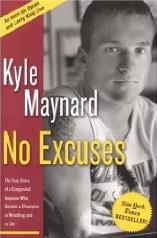 Here is a person who had many reasons to not do things in life, but his choice of attitude helped him to not give in and become a champion high school wrestler. An example of his attitude towards the challenges of his life, and life itself:
"Whenever I've faced adversity, I've used that challenge as motivation to win through, no matter the cost. When I meet with failure, I pick myself up, dust of the dirt from the fall and focus on trying again. You can't let failure beat you or give into the temptation of taking the easy way out. The world's greatest accomplishments aren't achieved on the first try."
I read Kyle's book a few years ago, but it still remains in my top 10 favorites. His attitude to choose the positive made all of the difference in his life. That example is one of the things to this day that helps me maintain my positive attitude.
Some Sources for a Positive Attitude Boost
Regardless of who you are, myself included, we all get days when it seems as though the only choice is to have a negative attitude. When those days come into my life, the thing that has helped me out is of course my own personal faith. Additionally, there are many other things that help me regain a positive attitude.
A favorite song
A favorite book
The memory of someone whose company I enjoy.
Blogs and websites are also some of great sources for re-acquiring a positive attitude. Below are some of my favorites that may help you in choosing your attitude:
What are some of your favorite ways to develop a better attitude? Do you know of anyone who is always in a positive mood? How do they keep such a positive attitude going? Inquiring minds would like to know.
(My sincerest wish is that the above has helped to make a positive difference in your life or in the life of someone you know! If you know of someone who you believe needs to see this post…let them know!)
Warmest Regards,
Gil
Comments