How Do You Wish to be Treated?
Last evening I was for­tu­nate enough to be with a large gath­er­ing of friends and acquain­tances for an after work social. It was a truly enjoy­able event such as most socials can be. Unfor­tu­nately, it never ceases to amaze me how every now and then there is a per­son in such a crowd who (giv­ing them the ben­e­fit of the doubt) doesn't real­ize that they are com­ing off as hav­ing a "holier than thou" type atti­tude. Why am I men­tion­ing this? I'm men­tion­ing this because I ran into such a per­son last night. The rea­son I use such a term to describe this per­son is because when I said hello to a friend of mine who I hadn't seen in a long time, the per­son next to him stopped talk­ing with the per­son he was speak­ing with and with­out really look­ing at me (not look­ing at me in the eye as would be the polite thing to do when meet­ing some­one but look­ing past me) said, "Well, hello Gil" in a some­what patron­iz­ing tone. After he said this to me, he pro­ceeded to not go back to the per­son he was speak­ing with or say any­thing fur­ther to me but to pick up some­thing from the table next to us. Imme­di­ately upon pick­ing up the item from the table, this per­son turned his back more towards me and looked away. It appeared as though he was look­ing through the crowd to see who else was here.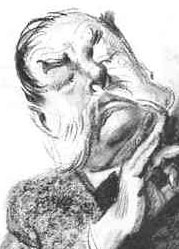 Did I know this per­son? Yes. He is a mem­ber of the board of direc­tors for one of the orga­ni­za­tions that was host­ing this event par­tic­u­lar event. This par­tic­u­lar orga­ni­za­tion is one that I'm a mem­ber of as well. Why was he act­ing this way towards me? I'm really not sure. What I do know about him is that he is a retired school pro­fes­sor and usu­ally a very nice per­son to speak with. But every now and again while talk­ing with peo­ple recently, he will have a tone as though he is a per­son of per­sua­sion and influ­ence. An ele­gant per­son who appears to enjoy the "finer things" in life (…have you ever seen those old "Grey Poupon Mus­tard com­mer­cials?). Almost as if he demands you to be a per­son of power or impor­tance your­self prior to him giv­ing you his undi­vided atten­tion. Being a per­son of power and be rude is one thing, being a per­son with­out as much power or influ­ence as maybe the next the per­son is another. To say I was a lit­tle taken back would be an understatement.
Ben­e­fit of the Doubt
There could have been many rea­sons for this per­son to act like that with me (and a cou­ple of oth­ers that same evening I found out later on). He could have been hav­ing a dif­fi­cult day, he may have been really tired, or most likely he may not have real­ized how he was com­ing off.
Some­times assum­ing the best of a per­son is eas­ier for deal­ing with peo­ple than assum­ing the worst from them.
How would you have felt if some­one, in front of a large group of peo­ple, treated you with such a con­de­scend­ing tone?
For­tu­nately, I choose to have a great day every day by choice so I didn't let it get to me for more than a few sec­onds (hey, I'm only human). Even though we can't always con­trol what hap­pens to us, we can always con­trol how we react. If there is any­one who dis­agrees with my last state­ment, feel free to dis­agree and let me know why you believe that.
How Should Some­one Be Treated? For­give and Forget?
The way a per­son neg­a­tively treats some­one else can, and often does, back­fire on them sooner or later.  With the par­tic­u­lar per­son who was so con­de­scend­ing with me and a few oth­ers at this social gath­er­ing, I won't be mak­ing an effort to do any­thing neg­a­tive towards him. Two wrongs don't make a right. But I can only imag­ine how oth­ers may act and go out of their way to ensure that they have a neg­a­tive effect on that person's life. All sim­ply due to the con­de­scend­ing way he may have treated them.
The age old say­ing of "For­give and For­get" is truly wise and pru­dent for most peo­ple. Unfor­tu­nately, as human beings, it's not always easy to for­get how a per­son makes you feel.
Is it really worth treat­ing some­one else as though they are beneath you in some way, shape or form?
Even if the above is not the intent, not being proac­tive in under­stand­ing how one is com­ing off to another per­son may be much more ben­e­fi­cial that one might think. In the age of social media and the inter­net, one per­son with an ener­getic and angry pas­sion against some­thing or "some­one" can do a large amount of dam­age to a person's cred­i­bil­ity, author­ity, respectability.
So the next time you're in a social set­ting, it may not be a bad idea to put on a smile and look at a per­son when you say hello to them or they say hello to you.
What are your thoughts?
Comments