A Story of Influence
When it comes to influ­ence one thing is cer­tain. One's abil­ity to cre­ate and main­tain a pos­i­tive rela­tion­ship is a must have skill. With­out the abil­ity to have a rela­tion­ship with some­one, there is absolutely no way to have influ­ence.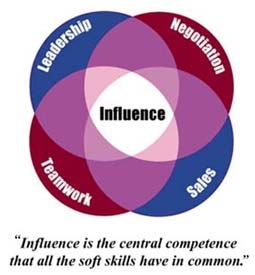 One can argue that power (through the manip­u­la­tion of money and/or vio­lence) can allow a per­son to have influence. I say that is sim­ply not true influ­ence but more so an invest­ment and use of fear. If given the choice, a large num­ber of lead­ers would pre­fer to use the power of influ­ence over the power of fear in order to get things done.
It All Started with a Visit
A few years back I was vis­it­ing the head­quar­ters of a very well-known inter­na­tional com­puter con­sult­ing firm. This par­tic­u­lar firm ser­viced my com­pany on many occa­sions and I was always happy with how their con­sul­tants han­dled my company's requests. An acquain­tance of mine, Larry, was one of the company's man­age­ment. While I was there, I noticed that many of the mem­bers of his team talked with him as though he was one of their bud­dies. The atmos­phere in his area of the com­plex felt very pos­i­tive and ener­getic to say the least. The team mem­bers that I met that morn­ing and that reported to Larry men­tioned that he was a very good man­ager. Words such as "respect" as well as phrases like "he rolls up his sleeves to help out when needed" were used to describe Larry. Over­all, I could tell that many of his team mem­bers really enjoyed work­ing with him and for him. They trusted and respected Larry.
Do you know any­one at work like Larry? Some­one trusted and respected by his peers and sub­or­di­nates?  How do you think they got that way?
This same day, there was another gen­tle­man at the head­quar­ters by the name of Mr. Chirac­son that (I later found out) was one of the Senior Vice Pres­i­dents of the com­pany. Accord­ing to Larry and some of his other col­leagues, he enjoyed using fear and intim­i­da­tion in order to get things done and to main­tain order. To him, if an employee was quiet and always on edge and con­cerned about his posi­tion, he would be a very atten­tive and pro­duc­tive employee. Have you ever known of a boss or a man­ager such as this per­son?  One thing that made Mr. Chirac­son a lit­tle more inter­est­ing was that he would always have a smile on his face when he was talk­ing to an employee. The smile was always more of an arro­gant or pompous type of smile where he enjoyed being the boss and being intim­i­dat­ing to an employee by way of him not let­ting on what he was think­ing. It turned out that one of the more com­mon thoughts on his mind when he was talk­ing with a sub­or­di­nate in the com­pany was, "how could I make this sub­or­di­nate be a lit­tle more on edge about his job so that the com­pany can get the most pro­duc­tion out of him?" This was some­thing I dis­cov­ered later on from one the company's board of direc­tors who knew Mr. Chirac­son and me.
Mr. Chirac­son and I had the oppor­tu­nity to meet in one of the cof­fee kiosks that were located near the front entrance to the build­ing I was in that day while we were both on line wait­ing to pay. When I saw him, he was behind me and wear­ing a com­pany badge with his name and pic­ture on him. Dur­ing this time, this par­tic­u­lar com­pany was not high on secu­rity within the front por­tion of the build­ing and so I was not given a badge to where while at the com­pany. Mr. Chirac­son said good morn­ing to me in a some­what haughty and loud tone. He asked me how I was doing that day. Me being myself and always choos­ing to be in a good mood and enjoy the day said, "Well actu­ally I'm hav­ing a very good and enjoy­able day. Thank you for ask­ing." As soon as I said that, his face changed to more one of sur­prise and then more of inquis­i­tive­ness.  I intro­duced myself by my first and last name gave out my hand to shake his. He hes­i­tantly took my hand to shake it but it was so limp, it would have been bet­ter to not have both­ered to shake. One thing that always gives me a neg­a­tive impres­sion is a weak (dead-fish) type of hand­shake. It does noth­ing more than com­mu­ni­cate lack of respect, insin­cer­ity and/or a low self-image. After I intro­duced myself, he said noth­ing but was just look­ing at me first with an open jaw and then with a look of slight dis­com­fort and I could almost say irritation.
Do you know any­one at work or some orga­ni­za­tion like Mr Chirac­son?  How do you think they got that way?
I will not for­get this par­tic­u­lar encounter because I later found out from Larry that Mr. Chirac­son (believe it or not) never enjoys hear­ing any of his sub­or­di­nates or any­one in the com­pany below him for that mat­ter, to be in such a good and relaxed mood. Espe­cially when speak­ing with him. Now granted I never men­tioned that I did not work for the com­pany to Mr. Chirac­son, but he never asked me if I did.
By Influ­ence or by Fear…Which is Better?
The rea­son this sticks out in my mem­ory is that Mr. Chirac­son was a Senior Vice Pres­i­dent for the com­pany and that such a posi­tion requires a great deal of influ­ence abil­ity. It was clear how­ever that Mr. Chirac­son, did not use true influ­ence as much as he used fear. A few years later, Mr. Chirac­son was dis­missed from his posi­tion. My friend Larry was later on forced to move on in his career when the com­pany merged with another firm caus­ing this par­tic­u­lar loca­tion to close its doors.  The irony that I saw hap­pen was that Larry soon found another posi­tion from an acquain­tance of one of his team mem­bers. The new posi­tion was a higher level posi­tion and Larry was rec­om­mended for it by a col­league who saw the posi­tion influ­ence he had in the last com­pany he worked in. Mr. Chirac­son, I found out was out of work for almost a year from what I was told. There "appar­ently" weren't many offers being given to him and from what one per­son (actu­ally the same per­son who I men­tioned was a board mem­ber ear­lier in this post) told me, it was because his rep­u­ta­tion was one of a per­son who didn't have influ­ence and really caused a hos­tile work envi­ron­ment to exist. If a per­son is per­ceived as being the cause of a hos­tile work envi­ron­ment, that is what I call, the "kiss of death" in cor­po­rate Amer­ica today. But that is another topic of discussion…
Would you rather have the power of influ­ence or the power of fear? Why?
Check out some of the great reads below!
Comments