A Story of Influence
When it comes to influence one thing is certain. One's ability to create and maintain a positive relationship is a must have skill. Without the ability to have a relationship with someone, there is absolutely no way to have influence.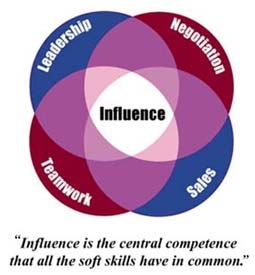 One can argue that power (through the manipulation of money and/or violence) can allow a person to have influence. I say that is simply not true influence but more so an investment and use of fear. If given the choice, a large number of leaders would prefer to use the power of influence over the power of fear in order to get things done.
It All Started with a Visit
A few years back I was visiting the headquarters of a very well-known international computer consulting firm. This particular firm serviced my company on many occasions and I was always happy with how their consultants handled my company's requests. An acquaintance of mine, Larry, was one of the company's management. While I was there, I noticed that many of the members of his team talked with him as though he was one of their buddies. The atmosphere in his area of the complex felt very positive and energetic to say the least. The team members that I met that morning and that reported to Larry mentioned that he was a very good manager. Words such as "respect" as well as phrases like "he rolls up his sleeves to help out when needed" were used to describe Larry. Overall, I could tell that many of his team members really enjoyed working with him and for him. They trusted and respected Larry.
Do you know anyone at work like Larry? Someone trusted and respected by his peers and subordinates?  How do you think they got that way?
This same day, there was another gentleman at the headquarters by the name of Mr. Chiracson that (I later found out) was one of the Senior Vice Presidents of the company. According to Larry and some of his other colleagues, he enjoyed using fear and intimidation in order to get things done and to maintain order. To him, if an employee was quiet and always on edge and concerned about his position, he would be a very attentive and productive employee. Have you ever known of a boss or a manager such as this person?  One thing that made Mr. Chiracson a little more interesting was that he would always have a smile on his face when he was talking to an employee. The smile was always more of an arrogant or pompous type of smile where he enjoyed being the boss and being intimidating to an employee by way of him not letting on what he was thinking. It turned out that one of the more common thoughts on his mind when he was talking with a subordinate in the company was, "how could I make this subordinate be a little more on edge about his job so that the company can get the most production out of him?" This was something I discovered later on from one the company's board of directors who knew Mr. Chiracson and me.
Mr. Chiracson and I had the opportunity to meet in one of the coffee kiosks that were located near the front entrance to the building I was in that day while we were both on line waiting to pay. When I saw him, he was behind me and wearing a company badge with his name and picture on him. During this time, this particular company was not high on security within the front portion of the building and so I was not given a badge to where while at the company. Mr. Chiracson said good morning to me in a somewhat haughty and loud tone. He asked me how I was doing that day. Me being myself and always choosing to be in a good mood and enjoy the day said, "Well actually I'm having a very good and enjoyable day. Thank you for asking." As soon as I said that, his face changed to more one of surprise and then more of inquisitiveness.  I introduced myself by my first and last name gave out my hand to shake his. He hesitantly took my hand to shake it but it was so limp, it would have been better to not have bothered to shake. One thing that always gives me a negative impression is a weak (dead-fish) type of handshake. It does nothing more than communicate lack of respect, insincerity and/or a low self-image. After I introduced myself, he said nothing but was just looking at me first with an open jaw and then with a look of slight discomfort and I could almost say irritation.
Do you know anyone at work or some organization like Mr Chiracson?  How do you think they got that way?
I will not forget this particular encounter because I later found out from Larry that Mr. Chiracson (believe it or not) never enjoys hearing any of his subordinates or anyone in the company below him for that matter, to be in such a good and relaxed mood. Especially when speaking with him. Now granted I never mentioned that I did not work for the company to Mr. Chiracson, but he never asked me if I did.
By Influence or by Fear…Which is Better?
The reason this sticks out in my memory is that Mr. Chiracson was a Senior Vice President for the company and that such a position requires a great deal of influence ability. It was clear however that Mr. Chiracson, did not use true influence as much as he used fear. A few years later, Mr. Chiracson was dismissed from his position. My friend Larry was later on forced to move on in his career when the company merged with another firm causing this particular location to close its doors.  The irony that I saw happen was that Larry soon found another position from an acquaintance of one of his team members. The new position was a higher level position and Larry was recommended for it by a colleague who saw the position influence he had in the last company he worked in. Mr. Chiracson, I found out was out of work for almost a year from what I was told. There "apparently" weren't many offers being given to him and from what one person (actually the same person who I mentioned was a board member earlier in this post) told me, it was because his reputation was one of a person who didn't have influence and really caused a hostile work environment to exist. If a person is perceived as being the cause of a hostile work environment, that is what I call, the "kiss of death" in corporate America today. But that is another topic of discussion…
Would you rather have the power of influence or the power of fear? Why?
Check out some of the great reads below!
Comments