A Little Note: Some Good Ways and Some Not So Good Ways to Network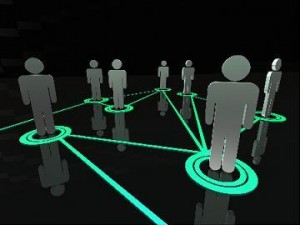 If you want to net­work with oth­ers, there are at least two things needed. First and sim­plest of them is that it helps to go where there are peo­ple. Sec­ond, and prob­a­bly the most impor­tant is that it helps to be gen­uinely inter­ested in people.
Dale Carnegie, one of the most influ­en­tial peo­ple of the twen­ti­eth cen­tury when it came to win­ning friends and influ­enc­ing oth­ers, once said, "You can make more friends in two months by becom­ing really inter­ested in other peo­ple than you can in two years by try­ing to get other peo­ple inter­ested in you."
What kind of peo­ple do you want to net­work with?
Given the choice, would you rather net­work with peo­ple who care mostly about them­selves or would you pre­fer to net­work with peo­ple who have a sin­cere inter­est in you? If you're like most peo­ple, my guess is that it would be the later.
I recently attended a net­work­ing social after work.  The event was spon­sored by a local pro­fes­sional orga­ni­za­tion and it promised to be a huge gath­er­ing of pro­fes­sion­als from the sur­round­ing area. When I got there one of the event's orga­niz­ers came up to me and wel­comed me to the event (being wel­comed by some­one is always a great expe­ri­ence when attend­ing a social gath­er­ing, whether you know them or not). This par­tic­u­lar event was quite large indeed, with over 200 peo­ple gath­er­ing in this down­town hot spot all with the main pur­pose of meet­ing other pro­fes­sion­als and entrepreneurs.
The event was great! I met a large num­ber of peo­ple from all dif­fer­ent back­grounds. Each per­son had some­thing to offer oth­ers and it never ceases to amaze me how much I con­tinue to learn about peo­ple at events such as these.
One per­son who I will remem­ber unfor­tu­nately is a young lady who I met due to her stand­ing next to some­one I knew. The per­son I knew said hello to me. I said hi back and start­ing to ask him how he was and what he had been up to. After a brief sen­tence or two, my friend motioned over to the per­son stand­ing next to him and I pro­ceeded to intro­duce myself say­ing that it was a plea­sure to meet her. But almost imme­di­ately she appeared to not care much about know­ing who I was (not that I was sell­ing any­thing or telling her any­thing about me other than intro­duc­ing myself). She pro­ceeded to speak with my friend and not give me much thought. My friend pro­ceeded to speak with both her and me dis­cussing a cou­ple of recent events that had occurred locally. What was soon appar­ent, or so it seemed, was that this young lady did not care what I had to say with respect to what the topic of con­ver­sa­tion was. The young lady needed to leave the event a few moments later, but before she did she pro­ceeded to give my friend a warm pro­fes­sional hand­shake and a smile say­ing it was a plea­sure meet­ing him. She then turned to me, raised her hand up to the side of her face and with a slight smile waived her fin­gers slightly at me with­out say­ing a word and pro­ceeded to leave the event.
Now I don't let these sce­nar­ios effect my enjoy­ment of an event. I make it a point to choose to enjoy my time at social gath­er­ings and help oth­ers enjoy their time if they wish to do so. At this par­tic­u­lar event, I met a lot of great peo­ple and had a great time overall.
What's the rea­son for me shar­ing this lit­tle story? The rea­son is because, even though this young lady didn't appear inter­ested in know­ing me, she left a not so good impres­sion. If she was at the event to meet peo­ple and net­work, she failed with me because I have lit­tle choice than to remem­ber the way she made me feel "as though I was not of any impor­tance to her in that brief con­ver­sa­tion." How do you believe I should treat her if (and when) I run into her in the future? How would you be if you were me meet­ing her at future social or pro­fes­sional events? I'll leave that up to you to think about how I would and should treat her.
My mes­sage here is that why burn bridges and make ene­mies with peo­ple you don't know. Granted we can't please all of the peo­ple all of the time, but mak­ing bad impres­sions is not always the best way to net­work with oth­ers. As I've men­tioned in other posts before, whether you intend to net­work with peo­ple or not, we are always networking!
Do you have any net­work­ing advice or sto­ries to share? What is your advice to peo­ple who want to net­work? There are many peo­ple (includ­ing myself) who would love to know!
Cheers!
Comments