Networking…The Great Equalizer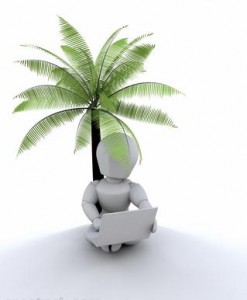 Every­one who is in just about every type of endeavor today has a vested inter­est in being a net­worker. Today, with the rise of social media and the influ­ence of online net­work­ing groups, the need to be able to net­work with oth­ers is more impor­tant than ever and that is why I call net­work­ing The Great Equalizer.
In today's world, if one wants to have a suc­cess­ful career or a suc­cess­ful busi­ness or orga­ni­za­tion of any kind, there is really no such thing as a safe haven. The ease of com­mu­ni­ca­tion across the World Wide Web has enabled vir­tu­ally any­one in the world to gather some form of infor­ma­tion about vir­tu­ally any topic includ­ing you and/or your ven­ture. So what do you want peo­ple to know about you?
Online net­work­ing vs. in per­son networking
I've been in many con­ver­sa­tions with peo­ple who are adamant sup­port­ers of either online net­work or in per­son net­work­ing. Many have said, "Yes, both forms of net­work­ing are impor­tant, but I pre­fer online net­work­ing over in per­son net­work­ing".  My response is "Why not both?" Both forms of net­work­ing have their dis­tinct pros and cons of course.  But when it comes to one or the other, I say go for both and then pri­or­i­tize how much of your time you're will­ing to spend on each form.
One of the pros for online net­work­ing ver­sus in per­son net­work­ing is the num­ber of peo­ple you can reach in a short amount of time. There are a num­ber of pro­fes­sional and social web­sites that allow a per­son to build their net­work. One of my favorite pro­fes­sional net­work­ing sites is LinkedIn.com.  On LinkedIn there are over 50 mil­lion pro­fes­sion­als con­nected. Other sites such as face­book, zoominfo.com, Twit­ter, and Plaxo to name a few are great and they are all very help­ful in build­ing your net­work. One of the cons of online net­work­ing is that for all the peo­ple you meet online, it's not always easy to make a strong per­sonal con­nec­tion when meet­ing some­one online ver­sus in per­son. When you meet some­one in per­son, there is a strong "human fac­tor" involved.
So what's the pro of "in per­son" face to face net­work­ing? As men­tioned a moment ago, it's the abil­ity to have the human fac­tor involved. When a per­son meets some­one face to face, there is a stronger sense of the per­son they are meet­ing. When peo­ple meet each other face to face, the oppor­tu­nity to read facial expres­sions, body pos­ture, the feel of a person's hand­shake, all add to the over­all judg­ment of one per­son by another. This to me is one of the strongest attrib­utes of net­work­ing. Why? Because when I net­work with peo­ple I enjoy learn­ing about them and what they are look­ing for when meet­ing oth­ers. For me, I can tell a lot from the way a per­son speaks with me and the way they greet me or oth­ers. For exam­ple, ever have some­one shake hands with you and it's like hold­ing a limp dead fish?  If you have, how does that make you feel about the per­son you're meet­ing? If this doesn't give you a neg­a­tive impres­sion of the per­son, then you're in the minor­ity. Many peo­ple do not enjoy shak­ing the hand of some­one who shakes with a limp grip.
Accord­ing to a Uni­ver­sity of Alabama study :
"(Peo­ple) with a firm hand­shake were more extraverted and open to expe­ri­ence and less neu­rotic and shy than those with a less firm or limp handshake."
Stud­ies also show that a per­son who shakes with a limp dead-fish style grip are seen as not hav­ing much con­fi­dence in them­selves and that they may not be able to be counted on. What type of per­son would you want to have a per­sonal or busi­ness rela­tion­ship with, a per­son who can be counted on or a per­son who can't be counted on? When you meet some­one, wouldn't it be nice to know if you could count on them or not? At least get a lit­tle sense of "Can I believe or trust what this per­son is say­ing?" When meet­ing some­one in per­son the human fac­tor plays a big part. Try shak­ing someone's hand via an online connection.
(Please Note: This arti­cle is spe­cific to west­ern style cul­tures. Dif­fer­ent cul­tures have dif­fer­ent norms when it comes to face to face net­work­ing. So when net­work­ing or meet­ing peo­ple in dif­fer­ent cul­tural set­tings, it's wise to research the norms of that cul­ture prior to being involved in such a setting.)
Which form of net­work­ing is best for me?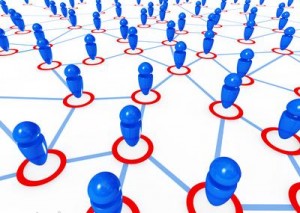 This all depends upon a person's goals. If a per­son sim­ply wants to meet peo­ple to social­ize online, they can go online and join the mul­ti­tude of online social net­work­ing forums. If a per­son wants to meet peo­ple and spend more time with oth­ers for, let's say, danc­ing or book read­ings, face to face in per­son net­work­ing may be the best option. When it comes to busi­ness, I say use both forms and not just one or the other. Both forms of net­work­ing are very impor­tant and can lead to a rela­tion­ship that is both enjoy­able and mutu­ally beneficial.
Over­all, the mes­sage here is that both forms of net­work­ing are impor­tant. In today's world, it is so easy to make a con­nec­tion online via a busi­ness or social net­work­ing group that it is becom­ing more the norm.
A Great Equalizer
Going back to my ear­lier descrip­tion of net­work­ing being a great equal­izer, I hold it to be true today more than ever because regard­less of what form of net­work­ing you choose to do, the peo­ple in your net­work will also be net­work­ing. As part of their net­work­ing, they too will be research oth­ers via peers and con­tacts. The nice thing about net­work­ing that I find is that the more you net­work, the more infor­ma­tion is shared. The infor­ma­tion shared will always be about a com­pany, orga­ni­za­tion or an indi­vid­ual and a person's expe­ri­ence with them. Dur­ing this inter­ac­tion, the pros and cons about the per­son are placed in full view. If the per­son or orga­ni­za­tion has done any­thing uneth­i­cal, or legally ques­tion­able in the past, the infor­ma­tion will always come out via net­work­ing sooner or later. At the same time, if the per­son has done good things (e.g. done good work, helped make a con­nec­tion, suc­ceeded in pro­vid­ing a ser­vice as requested, etc.) this will also come out via net­work­ing sooner or later.
Prob­a­bly what is most fas­ci­nat­ing is that every­one, regard­less of level or posi­tion, can gather the infor­ma­tion about any­one for any rea­son. In turn, every­one today has the abil­ity to share infor­ma­tion about them­selves, or about an orga­ni­za­tion they belong to or a ser­vice they can pro­vide. No longer is the abil­ity to reach some­one left to the pow­er­ful exec­u­tive or well con­nected politi­cian. Every­one now has the same abil­ity, thanks to the forms of net­work­ing in use today. So regard­less of the per­son, whether it's a CEO of a multi­bil­lion dol­lar inter­na­tional com­pany or a fresh­man in col­lege, peo­ple can both gather and pro­vide infor­ma­tion about them­selves to and for any­one else for any pur­pose. The play­ing field has now been set and is now open to all via today's var­i­ous forms of networking.
Great Net­work­ing Sites
Below are some of the many net­work­ing sites that I've come across and use either for per­sonal or busi­ness rea­sons. If you know of any oth­ers not shown below, why not share them with oth­ers via a comment!
For other great books on net­work­ing, check out the online store.
Comments