Networking…The Great Equalizer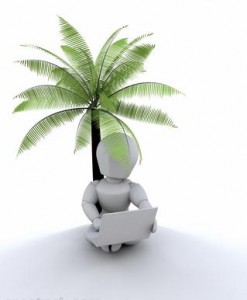 Everyone who is in just about every type of endeavor today has a vested interest in being a networker. Today, with the rise of social media and the influence of online networking groups, the need to be able to network with others is more important than ever and that is why I call networking The Great Equalizer.
In today's world, if one wants to have a successful career or a successful business or organization of any kind, there is really no such thing as a safe haven. The ease of communication across the World Wide Web has enabled virtually anyone in the world to gather some form of information about virtually any topic including you and/or your venture. So what do you want people to know about you?
Online networking vs. in person networking
I've been in many conversations with people who are adamant supporters of either online network or in person networking. Many have said, "Yes, both forms of networking are important, but I prefer online networking over in person networking".  My response is "Why not both?" Both forms of networking have their distinct pros and cons of course.  But when it comes to one or the other, I say go for both and then prioritize how much of your time you're willing to spend on each form.
One of the pros for online networking versus in person networking is the number of people you can reach in a short amount of time. There are a number of professional and social websites that allow a person to build their network. One of my favorite professional networking sites is LinkedIn.com.  On LinkedIn there are over 50 million professionals connected. Other sites such as facebook, zoominfo.com, Twitter, and Plaxo to name a few are great and they are all very helpful in building your network. One of the cons of online networking is that for all the people you meet online, it's not always easy to make a strong personal connection when meeting someone online versus in person. When you meet someone in person, there is a strong "human factor" involved.
So what's the pro of "in person" face to face networking? As mentioned a moment ago, it's the ability to have the human factor involved. When a person meets someone face to face, there is a stronger sense of the person they are meeting. When people meet each other face to face, the opportunity to read facial expressions, body posture, the feel of a person's handshake, all add to the overall judgment of one person by another. This to me is one of the strongest attributes of networking. Why? Because when I network with people I enjoy learning about them and what they are looking for when meeting others. For me, I can tell a lot from the way a person speaks with me and the way they greet me or others. For example, ever have someone shake hands with you and it's like holding a limp dead fish?  If you have, how does that make you feel about the person you're meeting? If this doesn't give you a negative impression of the person, then you're in the minority. Many people do not enjoy shaking the hand of someone who shakes with a limp grip.
According to a University of Alabama study :
"(People) with a firm handshake were more extraverted and open to experience and less neurotic and shy than those with a less firm or limp handshake."
Studies also show that a person who shakes with a limp dead-fish style grip are seen as not having much confidence in themselves and that they may not be able to be counted on. What type of person would you want to have a personal or business relationship with, a person who can be counted on or a person who can't be counted on? When you meet someone, wouldn't it be nice to know if you could count on them or not? At least get a little sense of "Can I believe or trust what this person is saying?" When meeting someone in person the human factor plays a big part. Try shaking someone's hand via an online connection.
(Please Note: This article is specific to western style cultures. Different cultures have different norms when it comes to face to face networking. So when networking or meeting people in different cultural settings, it's wise to research the norms of that culture prior to being involved in such a setting.)
Which form of networking is best for me?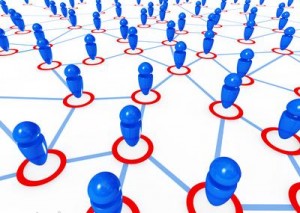 This all depends upon a person's goals. If a person simply wants to meet people to socialize online, they can go online and join the multitude of online social networking forums. If a person wants to meet people and spend more time with others for, let's say, dancing or book readings, face to face in person networking may be the best option. When it comes to business, I say use both forms and not just one or the other. Both forms of networking are very important and can lead to a relationship that is both enjoyable and mutually beneficial.
Overall, the message here is that both forms of networking are important. In today's world, it is so easy to make a connection online via a business or social networking group that it is becoming more the norm.
A Great Equalizer
Going back to my earlier description of networking being a great equalizer, I hold it to be true today more than ever because regardless of what form of networking you choose to do, the people in your network will also be networking. As part of their networking, they too will be research others via peers and contacts. The nice thing about networking that I find is that the more you network, the more information is shared. The information shared will always be about a company, organization or an individual and a person's experience with them. During this interaction, the pros and cons about the person are placed in full view. If the person or organization has done anything unethical, or legally questionable in the past, the information will always come out via networking sooner or later. At the same time, if the person has done good things (e.g. done good work, helped make a connection, succeeded in providing a service as requested, etc.) this will also come out via networking sooner or later.
Probably what is most fascinating is that everyone, regardless of level or position, can gather the information about anyone for any reason. In turn, everyone today has the ability to share information about themselves, or about an organization they belong to or a service they can provide. No longer is the ability to reach someone left to the powerful executive or well connected politician. Everyone now has the same ability, thanks to the forms of networking in use today. So regardless of the person, whether it's a CEO of a multibillion dollar international company or a freshman in college, people can both gather and provide information about themselves to and for anyone else for any purpose. The playing field has now been set and is now open to all via today's various forms of networking.
Great Networking Sites
Below are some of the many networking sites that I've come across and use either for personal or business reasons. If you know of any others not shown below, why not share them with others via a comment!
For other great books on networking, check out the online store.
Comments