Let's Listen Up.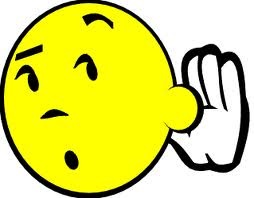 Lis­ten­ing to the other per­son may be hard to do if you don't care to lis­ten. That sounds like a pretty straight for­ward of state­ment doesn't it? But what if you really intend to lis­ten to the other per­son? Do you know if you're a good listener?
See if you're guilty of any, if not all, of these:
(1)    Glanc­ing at a PDA, cell phone, and printed materials
(2)    Inter­rupt­ing the per­son talking.
(3)    Fin­ish­ing the speaker's sentences.
(4)    Think­ing about what to ask or say next.
(5)    Yield­ing at distractions.
(6)    Tun­ing out.
(7)    Look­ing around the room.
If you are guilty of any of the above, if not all of them, then you may not be a good of a lis­tener as you think you are or can be.
"I think the one les­son I have learned is there is no sub­sti­tute for pay­ing attention."
– Diane Sawyer, TV Anchor
What's funny is that grow­ing up, most peo­ple are taught to talk, and to write, but we're never taught to lis­ten (other than to our parents…maybe).
Don't Worry, Relax and Sim­ply Listen
It really is not that dif­fi­cult to learn how to be a bet­ter lis­tener should one choose to be. Here are a few exer­cises to help you become bet­ter at listening:
Dur­ing con­ver­sa­tions, delib­er­ately con­cen­trate on lis­ten­ing. Notice when you're tun­ing out. Catch your­self inter­rupt­ing or think­ing about what you're going to say next. Work on stay­ing focused and in the moment.
Lean in a lit­tle when the other per­son is talk­ing to you. Body lan­guage is a very pow­er­ful thing and often shows the other per­son if you are inter­ested in hear­ing what they have to say or not. By lean­ing in you con­vey that you are indeed inter­ested in lis­ten­ing to them.
Set aside a block of time each day that is com­pletely free from the buzzing refuse of media and work inputs. Put your cell­phone on vibrate or bet­ter yet turn it off, close the lap­top, put away the papers, and try not to even think about the big dis­trac­tions that fol­low you around. Lie on the floor and watch the ceil­ing fan spin. Hang out with your pet's or hang out with your kids if you've got them. Knock some­thing off your "honey-to-do" list and chat with your sig­nif­i­cant other. If you do this spe­cific exer­cise faith­fully, you'll soon find a sense of clar­ity begin­ning to creep into other aspects of your life.
Per­suade a friend or fam­ily mem­ber to let you ask five ques­tions. Have in mind the first ques­tion you'll – but only the first ques­tion. Care­fully lis­ten to the response, pause, and then ask a sec­ond ques­tion build­ing on the first answer. Con­tinue until you've asked five questions.
Sit alone in a pub­lic place — cof­fee shop, air­port, park or restau­rant. Relax. Use your ears as direc­tional micro­phones to pick up sounds and con­ver­sa­tions. Focus on what you're hear­ing. What do you hear?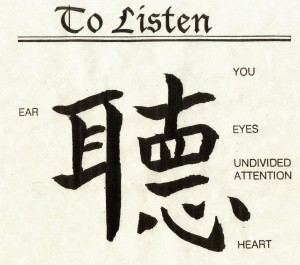 The Chi­nese char­ac­ters which make up the verb "to lis­ten" tell us some­thing sig­nif­i­cant about this skill.
Don't Worry, Bond­ing May Occur
When a per­son lis­tens to some­one else and is a good lis­tener, there is often an end result to it. Both the per­son speak­ing and the per­son lis­ten­ing begin to under­stand each other bet­ter. I love a story Ben Stein, the econ­o­mist and writer, tells of when he went car shop­ping with a friend. As they sat down with the sales­per­son, his friend con­fessed to her that he had made mis­takes in his life and his credit was a mess. The sales­per­son looked him in the eye and said, "That's alright. My own life has been pretty screwed up, too. This is my first week sell­ing Fords, and we're going to straighten out our live together." The end of the story is that Mr. Stein's friend (after prov­ing that he had steady income) pur­chased a new Mus­tang from the sales­per­son. Not only was the sales­per­son lis­ten­ing, but she responded with some­thing that was taken as sin­cere and aligned with Ben Stein's friend's needs.
All too often, peo­ple try to sell ideas with­out get­ting to know the per­son mak­ing the deci­sion. This rarely works.
Until next time!  Cheers!
Comments