Let's Listen Up.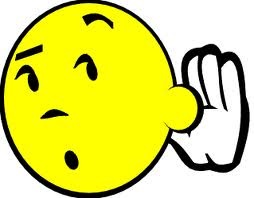 Listening to the other person may be hard to do if you don't care to listen. That sounds like a pretty straight forward of statement doesn't it? But what if you really intend to listen to the other person? Do you know if you're a good listener?
See if you're guilty of any, if not all, of these:
(1)    Glancing at a PDA, cell phone, and printed materials
(2)    Interrupting the person talking.
(3)    Finishing the speaker's sentences.
(4)    Thinking about what to ask or say next.
(5)    Yielding at distractions.
(6)    Tuning out.
(7)    Looking around the room.
If you are guilty of any of the above, if not all of them, then you may not be a good of a listener as you think you are or can be.
"I think the one lesson I have learned is there is no substitute for paying attention."
– Diane Sawyer, TV Anchor
What's funny is that growing up, most people are taught to talk, and to write, but we're never taught to listen (other than to our parents…maybe).
Don't Worry, Relax and Simply Listen
It really is not that difficult to learn how to be a better listener should one choose to be. Here are a few exercises to help you become better at listening:
During conversations, deliberately concentrate on listening. Notice when you're tuning out. Catch yourself interrupting or thinking about what you're going to say next. Work on staying focused and in the moment.
Lean in a little when the other person is talking to you. Body language is a very powerful thing and often shows the other person if you are interested in hearing what they have to say or not. By leaning in you convey that you are indeed interested in listening to them.
Set aside a block of time each day that is completely free from the buzzing refuse of media and work inputs. Put your cellphone on vibrate or better yet turn it off, close the laptop, put away the papers, and try not to even think about the big distractions that follow you around. Lie on the floor and watch the ceiling fan spin. Hang out with your pet's or hang out with your kids if you've got them. Knock something off your "honey-to-do" list and chat with your significant other. If you do this specific exercise faithfully, you'll soon find a sense of clarity beginning to creep into other aspects of your life.
Persuade a friend or family member to let you ask five questions. Have in mind the first question you'll – but only the first question. Carefully listen to the response, pause, and then ask a second question building on the first answer. Continue until you've asked five questions.
Sit alone in a public place – coffee shop, airport, park or restaurant. Relax. Use your ears as directional microphones to pick up sounds and conversations. Focus on what you're hearing. What do you hear?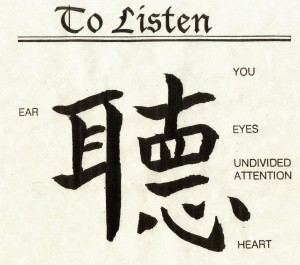 The Chinese characters which make up the verb "to listen" tell us something significant about this skill.
Don't Worry, Bonding May Occur
When a person listens to someone else and is a good listener, there is often an end result to it. Both the person speaking and the person listening begin to understand each other better. I love a story Ben Stein, the economist and writer, tells of when he went car shopping with a friend. As they sat down with the salesperson, his friend confessed to her that he had made mistakes in his life and his credit was a mess. The salesperson looked him in the eye and said, "That's alright. My own life has been pretty screwed up, too. This is my first week selling Fords, and we're going to straighten out our live together." The end of the story is that Mr. Stein's friend (after proving that he had steady income) purchased a new Mustang from the salesperson. Not only was the salesperson listening, but she responded with something that was taken as sincere and aligned with Ben Stein's friend's needs.
All too often, people try to sell ideas without getting to know the person making the decision. This rarely works.
Until next time!  Cheers!
Comments