The Importance of Eye Contact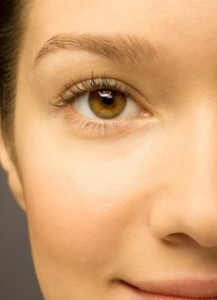 Here's a sce­nario. You've just met some­one and you appear to be hav­ing a nice con­ver­sa­tion. The topic of dis­cus­sion looks to be a joint area of inter­est for you and the per­son you're speak­ing with. How­ever, you notice that through­out the con­ver­sa­tion, the per­son is not look­ing at you but more so look­ing over your shoul­der or to their left and to their right. It's pretty clear that the per­son is not giv­ing their undi­vided atten­tion to the con­ver­sa­tion.
Eye con­tact says: You're the only per­son I'm lis­ten­ing to right now. It is the most over­looked aspect of body lan­guage and is easy to for­get when you are try­ing to han­dle mul­ti­ple things at once while talk­ing to some­one. Look­ing down or away from them can come off as aloof, espe­cially if the per­son is telling you about some­thing impor­tant or try­ing to get your atten­tion. Eye con­tact also says you are com­fort­able in your own skin. That you are con­fi­dent and that you are honest.
With eye con­tact, you want to try and do it with a per­son as you are speak­ing and while they are speak­ing. No need to stare at them of course or they might feel awk­ward. Just keep­ing a del­i­cate bal­ance between eye con­tact and no eye con­tact can make a world of difference.
The Great Communicator
Pres­i­dent Ronald Rea­gan was known to many as "The Great Com­mu­ni­ca­tor". Many attribute his polit­i­cal suc­cess with his abil­ity not just to speak to the Amer­i­can peo­ple, but to com­mu­ni­cate with them. While he was often given a hard time for his lack of detail, he was able to take things that a pub­lic may not under­stand oth­er­wise and sim­plify it down to a way that all could under­stand, includ­ing solu­tions to the issues such as the Cold War. Entire books have been writ­ten on Reagan's abil­ity to com­mu­ni­cate, but his rep­u­ta­tion as The Great Com­mu­ni­ca­tor boils down to three basic traits: he was clear; he was sim­ple; and he was sin­cere. Being sim­ple and clear is easy for most peo­ple to under­stand and become bet­ter at it with prac­tice. The magic ingre­di­ent here is being sin­cere.  How can a per­son prac­tice being sin­cere? Let alone com­mu­ni­cate with sin­cer­ity?  One of the basic parts of com­mu­ni­cat­ing with sin­cer­ity is mak­ing and keep­ing eye contact.
I've been for­tu­nate enough to know a few peo­ple who have spo­ken with Ronald Rea­gan on a num­ber of occa­sions, and they all told me of one com­mon char­ac­ter­is­tic that Rea­gan had while they spoke with him. They could tell that they were speak­ing "with him" rather than "to him." So what do I mean by that? They all told me that when they spoke with Ronald Rea­gan, it was as if it was only you and him in the room and no one else. Ronald Rea­gan never took his eyes off the per­son speak­ing with him. It wasn't a blank or cold stare but more so a per­son sin­cerely inter­ested in hear­ing what they had to say at that moment.
Other Great Communicators
So was this trait of eye con­tact copied by other Amer­i­can pres­i­dents? An acquain­tance of mine by the name of Charles Gar­cia was a White House Fel­low dur­ing the Bill Clin­ton admin­is­tra­tion. Charles Gar­cia is also the author of "A Mes­sage from Gar­cia" and "White House Fel­lows: Learn How to Inspire Oth­ers, Achieve Great­ness, and Find Suc­cess in Any Orga­ni­za­tion". Dur­ing one con­ver­sa­tion with him, he told me how every time he had a chance to speak with Pres­i­dent Clin­ton, he was made to feel as though he and the pres­i­dent were the only peo­ple in the room at the moment of the con­ver­sa­tion. When I asked him how he did that, Charles men­tioned that no mat­ter what else was hap­pen­ing in the room, Pres­i­dent Clin­ton never took his eyes off of him dur­ing the con­ver­sa­tion. Even when it was such a brief con­ver­sa­tion such as when the pres­i­dent and his wife are in a greet­ing line at an event, when you were face to face with the pres­i­dent, he was look­ing you straight in the eye with a car­ing and sin­cere inter­est in what you were say­ing. Charles Gar­cia also had many sim­i­lar sce­nar­ios where he was able to have a con­ver­sa­tion with the fol­low­ing pres­i­den­tial admin­is­tra­tion of George W. Bush. The expe­ri­ence he felt with Pres­i­dent Clin­ton, he also expe­ri­enced with Pres­i­dent Bush. No mat­ter who else was talk­ing or what else was occur­ring in the room, the pres­i­dent was look­ing at him in the eye for the entire con­ver­sa­tion. Were both pres­i­dents star­ing at him dur­ing their con­ver­sa­tions? No. They would occa­sion­ally glance down or to the side for a brief sec­ond but then go right back to look­ing at Charles in the eye as they con­tin­ued their conversation.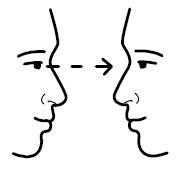 East Meets West
One note to be aware of with eye con­tact is the inter­pre­ta­tion of it that varies by cul­ture. It's well known that in West­ern coun­tries such as the United States, giv­ing those in power eye con­tact is revered. How­ever, in East­ern coun­tries, eye con­tact with those in a posi­tion of power is viewed as rude and dis­re­spect­ful. It's impor­tant to rec­og­nize these dif­fer­ences, since eye con­tact can mean many dif­fer­ent things depend­ing on the set­ting and the peo­ple lock­ing eyes.
Let's Have Coffee
I was at a recent meet­ing over cof­fee with some­one who I met the week prior. It was just the two of us get­ting together to con­verse about what each one of us did and how we may be able to help each other out with busi­ness and/or con­nec­tions. She was a very well-spoken per­son who had a lot of very inter­est­ing things to say. There was one thing how­ever that stood out to me. When­ever she spoke, she would often not look me in the eye. She sim­ply kept glanc­ing around the room as if to see who else was there. When I started to notice this, I kept a men­tal note to see how often she would look me in the eye when she spoke. What I noticed was that she prob­a­bly looked at me for no more than 20% of the time she spoke.  She did how­ever look right at me when­ever I spoke, but the fact that she did not look me in the eye when she spoke began to grate on me a lit­tle when it came to the respect department.
With­out mean­ing to, I began to feel a lit­tle dis­trust­ful of the per­son. We made an appoint­ment to get together over cof­fee and yet she did not appear to have the same expec­ta­tion as me for the meet­ing. Whether it was truth­ful or not, that is the feel­ing that I was get­ting dur­ing our time together and it was result­ing all from the lack of eye con­tact. By the way, based upon my ear­lier com­ment about East meets West, this per­son was born and raised in the West so that wasn't the rea­son for the lack of eye con­tact. Dur­ing our con­ver­sa­tion, she talked about var­i­ous sto­ries and issues. At times point­ing out to me some of the well-known regional lead­ers who were appar­ently also hav­ing cof­fee or lunch in the room with us (Note: We were hav­ing cof­fee in a place fre­quented by many local politi­cians and com­mu­nity lead­ers). Some­times, the topic of dis­cus­sion involved some of the local lead­ers who were in the room and so she pointed them out to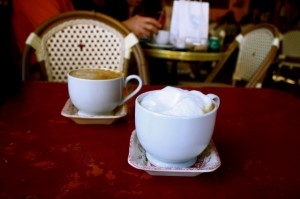 me dur­ing our dis­cus­sion. Per­son­ally, I did not care that the mayor of the city was sit­ting at the table to my right. Also, I did not care that a well-known author was in the room as well hav­ing lunch with a local non-profit leader. The rea­son I didn't care was because I usu­ally make it a point to lis­ten and be inter­ested in the con­ver­sa­tion I'm hav­ing with a per­son while I'm hav­ing it. The young lady and I made an appoint­ment to get together for a par­tic­u­lar rea­son. For me, a person's time is always valu­able and I treat it as such.
Can it be said that she wasn't inter­ested in the con­ver­sa­tion that we were hav­ing or in the rea­son for us get­ting together over cof­fee in the first place? That is always open for inter­pre­ta­tion. There was no need to say any­thing to her. What I can say though is that for me the lack of eye con­tact here defined this con­ver­sa­tion and my view of the per­son in my eyes (no pun intended…or maybe it was 😎 ).  
 What are your thoughts on eye-contact?
Comments