So You Think You're an Expert
Some­times it appears as though there are a lot of peo­ple who revel in boast­ing about their exper­tise in what­ever topic they claim to be an expert in. This seems to be the case whether it's cars, inter­re­la­tion­ship skills, clothes, arts and crafts, or a sport. You name it; there will be an "expert" who can be found for it. Experts who can help oth­ers become bet­ter at that par­tic­u­lar skill or hobby. In today's world of ultra-competition this can be a bless­ing for those of us who need to develop our­selves in one of those areas. But what does it really mean to be an expert? If a per­son chooses to become bet­ter at some­thing, and even­tu­ally be looked upon as an expert, hav­ing a basic under­stand­ing of what it means to be an expert will cer­tainly be help­ful in achiev­ing that goal.
Joseph and Harry's Window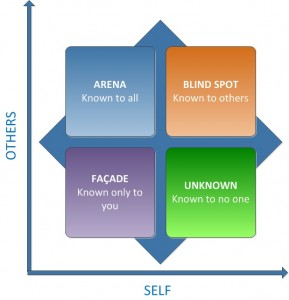 In my hum­ble opin­ion, the Johari Win­dow is one of the most use­ful tools that helps describe the process of human inter­ac­tion. Cre­ated by Joseph Luft and Harry Ing­ham in 1955 in the United States, a "Johari Win­dow" is a cog­ni­tive psy­cho­log­i­cal tool used to help peo­ple bet­ter under­stand inter­per­sonal com­mu­ni­ca­tion and relationships.
The Arena or Open/Free Area is the part of us that is known by our­selves and that oth­ers see of ourselves.
The Blind Spot is also known as the "Shadow Area" and it"s the part that is seen by oth­ers but not known by us.
The Façade is known by our­selves but not seen by oth­ers. It's the hid­den area that we keep to ourselves.
The Unknown is the mys­tery sec­tion that is unknown both by our­selves and not seen by others.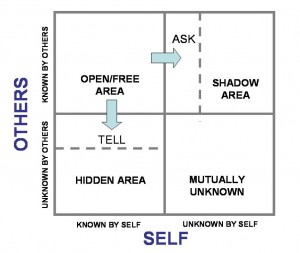 One of the inter­est­ing char­ac­ter­is­tics of the Johari Win­dow is that the bound­aries are not sta­tic. Com­mu­ni­ca­tion is the key to the move­ment of the bound­aries. When­ever we dis­close or give feed­back or when we ask for feed­back, the bound­aries between the win­dows move into the unknown areas. Increas­ing the size of the known areas. As you may have guessed it, when­ever we choose to not share or not com­mu­ni­cate with oth­ers, the bound­aries can move in the oppo­site direc­tion. Increas­ing the size of the hid­den, shadow and unknown areas of the window. 
So What Does This Have to do with Expertise?
Orig­i­nally used to help improve communication, the Johari Win­dow is also use­ful to help under­stand the process of devel­op­ing exper­tise. I'll use the game of golf to elab­o­rate my point:
(1)    Uncon­scious Incom­pe­tence (novice) – You do not know what you do not know. If you've never picked up a golf club, you likely will not be aware of the basic fun­da­men­tals such as grip, pos­ture, and proper stance.
(2)    Con­scious Incom­pe­tence (trainee) – You know what you do not know. Ok, you've started tak­ing golf lessons. When you take your first les­son, your instruc­tor makes you aware of the impor­tance of grip, pos­ture, and stance to help your golf swing. You will know what you need to learn.
(3)    Con­scious Com­pe­tence (proficient) – You know what it takes to per­form the task at hand effi­ciently (but in order to per­form the task, you have to think about every step). After sev­eral lessons, you've become aware of what you need to do in order to have a con­sis­tent golf swing. You have to really think about what you're doing though. It hasn't become sec­ond nature for you yet. But you are able to explain to oth­ers what works and why it works. You haven't yet become an expert.
(4)    Uncon­scious Com­pe­tence (expert) – You do not know what you do know. You've been work­ing on your golf swing for years now. You are able to swing the club with great veloc­ity and con­sis­tency. When faced with adver­sity, you auto­mat­i­cally know how to han­dle it. You have dif­fi­culty in shar­ing your strat­egy with oth­ers because it's so auto­matic for you now. You are not con­sciously aware of why it works for you.
Please note a very impor­tant point I'm mak­ing here:
"Just because a per­son is an expert at some­thing, doesn't mean that they are auto­mat­i­cally good at teach­ing it."

This is a very sim­plis­tic view of what it means to be a novice, trainee, pro­fi­cient or expert. Do you think that I'm spot on or do you think the above shows too much a one-dimensional view of exper­tise? Would you con­sider your­self an "expert" at some­thing?  If so, what at and why? Do you know of some­one who is an expert? Why do you think so? Share them here…we'd love to hear your thoughts!
Comments