Think Your Too Old to Learn Something New? Think Again.…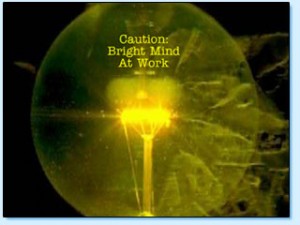 The other day I was talk­ing with a close fam­ily friend who I hadn't seen in a num­ber of years. I asked him how he was doing and what he had been up to since the last time I spoke with him. His name is John and he men­tioned to me that he had been doing given the cir­cum­stances of being out of work for a period of time. He's now work­ing once again, but not in the area he was orig­i­nally work­ing in. I asked him where he was work­ing now and he told me he was work­ing for a small mar­ket­ing com­pany doing some mar­ket­ing in addi­tion to some IT (Infor­ma­tion Tech­nol­ogy) work for them.
I was sur­prised that John was doing mar­ket­ing because for most of my life, he was the engi­neer­ing type who enjoyed tin­ker­ing with gad­gets of all types. His main career for the past 25 or so years had been in the com­puter indus­try so when he men­tioned that he was now doing mar­ket­ing I found it really inter­est­ing. I had to ask how a per­son in their early 50's, who has been work­ing for so many years in one field, goes from work­ing in the com­puter indus­try to work­ing in the mar­ket­ing indus­try. John men­tioned that he always found the com­puter field very reward­ing, but that recently he had been look­ing at other areas to apply his mind to. When he was laid off ear­lier last year, he decided he needed a change for himself.
"That was an inter­est­ing change" I told him. I then asked him how he was able to "break into" the mar­ket­ing field at this stage in life. "I wasn't aware that you knew enough about mar­ket­ing to go into it" was my excla­ma­tion. He told me he didn't. He thought he knew a lit­tle about mar­ket­ing, but when he looked for posi­tions in mar­ket­ing, he quickly found out (unfor­tu­nately dur­ing inter­views) that he really didn't know much at all. John told me that this made him self-conscious at the thought of apply­ing for any more mar­ket­ing posi­tions. But instead of giv­ing up, John said he decided to learn as much as he could about the aspects of mar­ket­ing. He enrolled in a cou­ple of sum­mer courses at a local com­mu­nity col­lege in his home­town. At the same time, he went to the library and read up on mar­ket­ing careers, pro­fes­sional mar­ket­ing com­pa­nies, mar­ket­ing con­sul­ta­tion and almost every area of mar­ket­ing he was able to get his hands on. He also did research on the internet.
After doing this level of self edu­ca­tion on mar­ket­ing, and after the two sum­mer courses were done, he pro­ceeded to start apply­ing for mar­ket­ing posi­tions once again. The result, he had a cou­ple of job offers within a month or so of apply­ing. Today he is really happy at what he is now doing. What stuck out to me dur­ing this whole con­ver­sa­tion is that many peo­ple I know, many of which are younger than my fam­ily friend John, look at them­selves as too old to learn a new field or trade. I was never a fol­lower of such a phi­los­o­phy and here was liv­ing proof that it is pos­si­ble to learn new things at any age. As my late grand­fa­ther (R.I.P.) found out in the last few years of his life, after learn­ing about email­ing and com­put­ers in his mid-eighties (and writ­ing elec­tronic arti­cles for his town paper in this man­ner), we never really loose the abil­ity to learn. Some peo­ple just allow them­selves to believe they aren't able to learn any­thing new.
What would you like to learn about?
Comments