Trust: A Must Have Commodity in Today's Business World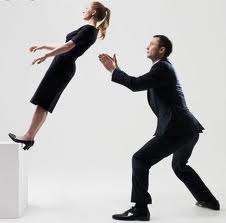 Trust. The commodity that in today's world is so valuable that without it, a person or organization will be greatly limited in what they can accomplish.
Gone are the days where simply an office title or a person's apparent status in a group is enough to help them influence others in order to successfully accomplish a project or some other goal. Whether it is in a private company or as a volunteer leader for a community, without the commodity of trust in their leadership repertoire, a person who "believes they can accomplish great things" may be heading for a huge fall when they least expect it.
Trust can be one of the most powerful drivers for a person.
Trust has been defined as "a firm belief in the reliability, truth capabilities or strength of a person or something." (Merriam-Webster dictionary). Simply put, trust means confidence. The opposite of trust — distrust — means suspicion.
The late Steve Jobs of Apple fame was known as a hard boss to work for because he could be quite demanding. When Apple was developing the Apple II, one of the things he wanted the new computer to have was for it to occupy less space on a person's desk than any other computer. At the time, a computer took up a large amount of desk or table space. During a meeting with a group of Apple's engineers, Steve Jobs brought with him a copy of the local Yellow Pages phone book. He plopped it down on the meeting table and said, "I want the next computer we release to take up no more room on a table than this phone book." The engineers were flabbergasted and started letting him know that it couldn't be done. The components didn't exist for creating a computer so small, nothing even close had ever been done like that before, it would many years to develop such a small computer. Steve Jobs gave them a cut throat timeline and walked out of the meeting without reneging on his desire to have a computer with such a small desk footprint.  As he walked out of the meeting, not allowing them to debate with him much on the "impossibility of having such a small computer," he said that "he believed in them." The result, they were able to create a computer with a smaller desk space footprint within the time Steve Jobs asked for.
Traditional Business Formula vs. Today's Business Reality
Have you ever worked for someone who you simply couldn't fully trust? OK…that is a loaded question because I'm sure we all have at some point or another experienced it. Working for someone who gave you reasons for you not to trust him/her. You may even have had such an experience more than a few times over your career.
An acquaintance of mine has been working for a new supervisor for the past 6 months and their appears to be a trust issue within the team he is currently working with.  He tells me how his current supervisor doesn't appear to be so open with either sharing information about what is going on within the company or about trusting her staff to give their insights on things that they were hired to know about. It turns out my colleague's supervisor has a habit of making virtually all decisions without consulting with her leadership team first. Sometimes, the decision appears questionable to his staff. But rather than asking her leadership team to give their feedback, she explains how the decision was made and why it had to be decided upon. This apparently happens every time between her and her leadership team forcing many of her direct reports to question the purpose of being on her team. You have to wonder how much this lack of trust is costing this team leader and the company they are all working for.
When I got my MBA, one of the main formulas I learned for creating results in business was:
Strategy x Execution = Results 
This formula appears fairly straight forward doesn't it? There is however a hidden variable in this formula that will make or break it. That hidden variable is "trust." So the full formula is really:
Strategy x Execution (x Trust) = Results
Stephen M.R. Covey wrote in his book "The Speed of Trust" that when trust is high it equals high speed and low cost to accomplish things. At the same time, when trust is low, it equals low speed and high cost for accomplishing things. A company with an excellent strategy and a solid ability to execute can have all possible results blown out of the water by a "low trust environment."  Remember what I said earlier:
Trust means confidence. The opposite of trust — distrust — means suspicion
Imagine how much more a company can accomplish and outperform its competitors by creating and maintaining a high trust environment!
Some Great Articles about Trust and Business:
Comments