Trust: A Must Have Commodity in Today's Business World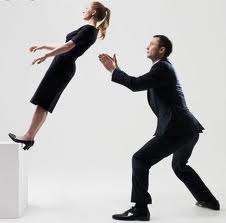 Trust. The com­mod­ity that in today's world is so valu­able that with­out it, a per­son or orga­ni­za­tion will be greatly lim­ited in what they can accomplish.
Gone are the days where sim­ply an office title or a person's appar­ent sta­tus in a group is enough to help them influ­ence oth­ers in order to suc­cess­fully accom­plish a project or some other goal. Whether it is in a pri­vate com­pany or as a vol­un­teer leader for a com­mu­nity, with­out the com­mod­ity of trust in their lead­er­ship reper­toire, a per­son who "believes they can accom­plish great things" may be head­ing for a huge fall when they least expect it.
Trust can be one of the most pow­er­ful dri­vers for a person.
Trust has been defined as "a firm belief in the reli­a­bil­ity, truth capa­bil­i­ties or strength of a per­son or some­thing." (Merriam-Webster dic­tio­nary). Sim­ply put, trust means con­fi­dence. The oppo­site of trust — dis­trust — means suspicion.
The late Steve Jobs of Apple fame was known as a hard boss to work for because he could be quite demand­ing. When Apple was devel­op­ing the Apple II, one of the things he wanted the new com­puter to have was for it to occupy less space on a person's desk than any other com­puter. At the time, a com­puter took up a large amount of desk or table space. Dur­ing a meet­ing with a group of Apple's engi­neers, Steve Jobs brought with him a copy of the local Yel­low Pages phone book. He plopped it down on the meet­ing table and said, "I want the next com­puter we release to take up no more room on a table than this phone book." The engi­neers were flab­ber­gasted and started let­ting him know that it couldn't be done. The com­po­nents didn't exist for cre­at­ing a com­puter so small, noth­ing even close had ever been done like that before, it would many years to develop such a small com­puter. Steve Jobs gave them a cut throat time­line and walked out of the meet­ing with­out reneg­ing on his desire to have a com­puter with such a small desk foot­print.  As he walked out of the meet­ing, not allow­ing them to debate with him much on the "impos­si­bil­ity of hav­ing such a small com­puter," he said that "he believed in them." The result, they were able to cre­ate a com­puter with a smaller desk space foot­print within the time Steve Jobs asked for.
Tra­di­tional Busi­ness For­mula vs. Today's Busi­ness Reality
Have you ever worked for some­one who you sim­ply couldn't fully trust? OK…that is a loaded ques­tion because I'm sure we all have at some point or another expe­ri­enced it. Work­ing for some­one who gave you rea­sons for you not to trust him/her. You may even have had such an expe­ri­ence more than a few times over your career.
An acquain­tance of mine has been work­ing for a new super­vi­sor for the past 6 months and their appears to be a trust issue within the team he is cur­rently work­ing with.  He tells me how his cur­rent super­vi­sor doesn't appear to be so open with either shar­ing infor­ma­tion about what is going on within the com­pany or about trust­ing her staff to give their insights on things that they were hired to know about. It turns out my colleague's super­vi­sor has a habit of mak­ing vir­tu­ally all deci­sions with­out con­sult­ing with her lead­er­ship team first. Some­times, the deci­sion appears ques­tion­able to his staff. But rather than ask­ing her lead­er­ship team to give their feed­back, she explains how the deci­sion was made and why it had to be decided upon. This appar­ently hap­pens every time between her and her lead­er­ship team forc­ing many of her direct reports to ques­tion the pur­pose of being on her team. You have to won­der how much this lack of trust is cost­ing this team leader and the com­pany they are all work­ing for.
When I got my MBA, one of the main for­mu­las I learned for cre­at­ing results in busi­ness was:
Strat­egy x Exe­cu­tion = Results 
This for­mula appears fairly straight for­ward doesn't it? There is how­ever a hid­den vari­able in this for­mula that will make or break it. That hid­den vari­able is "trust." So the full for­mula is really:
Strat­egy x Exe­cu­tion (x Trust) = Results
Stephen M.R. Covey wrote in his book "The Speed of Trust" that when trust is high it equals high speed and low cost to accom­plish things. At the same time, when trust is low, it equals low speed and high cost for accom­plish­ing things. A com­pany with an excel­lent strat­egy and a solid abil­ity to exe­cute can have all pos­si­ble results blown out of the water by a "low trust envi­ron­ment."  Remem­ber what I said earlier:
Trust means con­fi­dence. The oppo­site of trust — dis­trust — means suspicion
Imag­ine how much more a com­pany can accom­plish and out­per­form its com­peti­tors by cre­at­ing and main­tain­ing a high trust environment!
Some Great Arti­cles about Trust and Business:
Comments