Leading and the Multigenerational Factor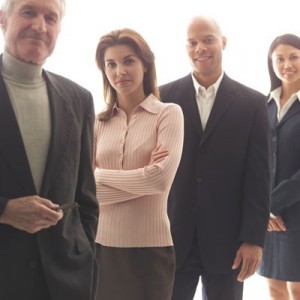 If you're in the work­force today you've prob­a­bly expe­ri­enced mis­un­der­stand­ings that occur due to peo­ple being of dif­fer­ing gen­er­a­tions. You may not know or believe that mis­un­der­stand­ings can occur due to peo­ple being of dif­fer­ent gen­er­a­tions, but they do and it's sim­ply a fact of life. This sim­ple fact is prob­a­bly more impor­tant today than ever before and here's why. For the first time in human his­tory, we have four sep­a­rate gen­er­a­tions work­ing together in soci­ety. Each gen­er­a­tion has its own char­ac­ter­is­tics, strengths, likes and dis­likes, and work­ing style.
"The prospect of man­ag­ing work­groups con­sist­ing of such a wide poten­tial age range presents sev­eral chal­lenges, but it also can yield sig­nif­i­cant oppor­tu­ni­ties. .… acknowl­edg­ing gen­er­a­tional dif­fer­ences offers com­pa­nies access to a wider array of cre­ative ideas and, per­haps more impor­tant, ensures that the firm's tal­ent pool is fully tapped." - Infor­ma­tion­Week arti­cle by Kather­ine Spencer Lee (Feb­ru­ary 4th, 2006)
The four gen­er­a­tions being men­tioned here are the "Tra­di­tion­al­ist" (born between 1900 and 1945), the "Baby Boomers" (born between 1946 and 1964), "Gen­er­a­tion X" (born between 1965 and 1977), and "Gen­er­a­tion Y" (born between 1978 and 2000).
Some Gen­er­a­tional Traits for The Four Generations
One day, there was a man­ager of the Baby-Boomer gen­er­a­tion named Bob who was wait­ing to meet with one of his sub­or­di­nates in his office. He had what he per­ceived as great news. His sub-ordinate John, who was of Generation-Y,  walked into Bob's office and sat down. Bob asked John to close the door and once he did, Bob pro­ceeded to tell him that he had great news. Bob told him that there was an open­ing for senior direc­tor posi­tion and that John was selected for the posi­tion. The only thing he had to do was move to one of the company's other offices four states away. Now Bob knew that John was work­ing towards becom­ing a Senior Direc­tor and now here was his chance. Upon hear­ing the news, John did not react the way Bob expected. John appeared flat­tered that he was being seen as senior direc­tor mate­r­ial by upper man­age­ment. He also said he needed to think about the offer. This per­plexed Bob because he was not able to under­stand John's hes­i­ta­tion. After all, this was a once in a life­time oppor­tu­nity. The next day, John came into Bob's office and told him that he was not inter­ested in tak­ing the posi­tion. In addi­tion, he said he was resign­ing in order to pur­sue other areas of inter­est. To say that Bob was sur­prised would be an under­state­ment. Bob could not under­stand John's rea­son­ing here. In addi­tion, one of the first things to come across Bob's mind was that John did not have ambi­tion or the drive to move up in the world and that would be a big hin­drance n John's career. Have you ever wit­nessed this type of sce­nario (or been involved your­self

) before?  Is it that John is not dri­ven to take advan­tages of the oppor­tu­ni­ties that present themselves?
For a Generation-Y per­son, bal­ance in life is very impor­tant, as it is for many gen­er­a­tions. The dif­fer­ence here is that for a Gen-Y per­son, bal­ance means "Work is not ALL ; flex­i­bil­ity to bal­ance ALL inter­est."
Below are some traits spe­cific to dif­fer­ent gen­er­a­tions. (Note:  these are a gen­er­al­iza­tion of the dif­fer­ent traits seen for each gen­er­a­tion. There will undoubt­edly be indi­vid­u­als who do not fit the "mold" so to speak for the gen­er­a­tion they are part of)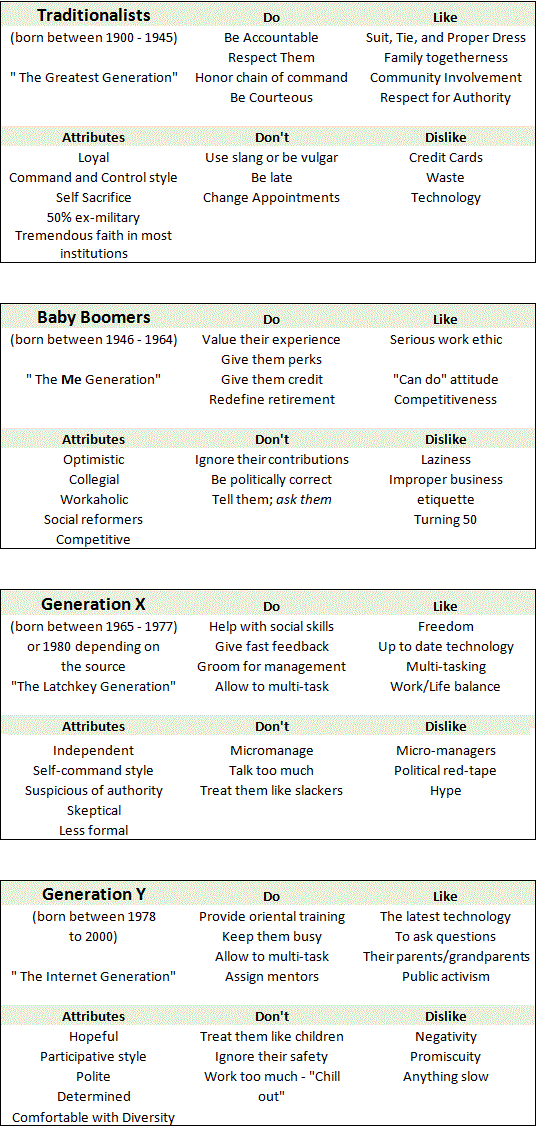 Under­stand­ing Multi-Generations (Avoid­ing Conflict)
Tra­di­tion­al­ist, Baby-Boomers, Gen­er­a­tion X, and Gen­er­a­tion Y have dif­fer­ent views on things when it comes to career goals, rewards,  bal­ance and job feed­back. Some of them can be quite oppo­site to each other which can lead to many of those multi-generational mis­un­der­stand­ings. As a leader, it's always in the best inter­est of the group you're lead­ing, in what the group is attempt­ing to accom­plish, and in your effec­tive­ness as a leader to under­stand how mem­bers of dif­fer­ent gen­er­a­tions view the world.
Views on Career Goals:
Tra­di­tion­al­ists:      Leav­ing a legacy.
Boomers:               Hav­ing a Stel­lar Career.
Gen-Xers:              Hav­ing a Portable Career.
Gen-Yers:              Hav­ing a Par­al­lel Career.
Views on Rewards:
Tra­di­tion­al­ists:   A job that is well done.
Boomers:            Bonus or a Cash award. Pro­mo­tion, recog­ni­tion, the cor­ner office
Gen-Xers:           Free­dom; Giv­ing them a day off.
Gen-Yers:            Hav­ing work that is meaningful.
Views on Retire­ment:
Tra­di­tion­al­ists:   Reward for so many years of loyal work.
Boomers:            A time to retool.
Gen-Xers:           A time to renew yourself.
Gen-Yers:            Recy­cle
Views on Changing Jobs:
Tra­di­tion­al­ists:   Stigma.
Boomers:            A regres­sion or demotion.
Gen-Xers:           Nec­es­sary.
Gen-Yers:            Part of daily routine.
Views on Feed­back:
Tra­di­tion­al­ists:   No news is good news.
Boomers:            Once/year is more than enough.
Gen-Xers:           "How am I doing?" is asked often; Give feed­back when they ask for it.
Gen-Yers:            As often as possible.
Prob­a­bly the one inter­est­ing thing to remem­ber here is that this multi­gen­er­a­tional clash has vir­tu­ally always existed. The Tra­di­tion­al­ist gen­er­a­tion had issues with their parent's and grandparent's gen­er­a­tion. Generation-Y will be deal­ing with the next gen­er­a­tion and their views and how dif­fer­ent it may be from theirs. So the next time you find your­self say­ing, "Kids these days! What is the mat­ter with them. Why don't they <_fill in your gripe here_>? " think about how you were with your par­ents and grand­par­ents (be hon­est

). The next time you find your­self call­ing your boss as an old fogy, think about how they were brought up to see the world and make an effort to under­stand them. You may find your­self a lit­tle bit more patient with them.
Great Arti­cles and Resources on the Gen­er­a­tional Dif­fer­ences Discussion:
"Gen Y, Gen X and the Baby Boomers: Work­place Gen­er­a­tion Wars" — by Steff Gel­ston (CIO.com)
"Gen­er­a­tional Dif­fer­ences at Work" by Melissa Dittman. A psy­chol­o­gist stud­ies ways to help tra­di­tion­al­ists, baby boomers, gen Xers and mil­len­ni­als work bet­ter together, despite their gen­er­a­tional differences.
"Man­ag­ing Gen­er­a­tional Dif­fer­ences in the Work­place" by Mar­garet Hef­fer­nan (Fast Company.com)
"Mix­ing and Man­ag­ing Four Gen­er­a­tions of Employ­ees" — by Greg Ham­mill, direc­tor, intern and stu­dent pro­grams, at FDU's Sil­ber­man Col­lege of Business.
"Multi­gen­er­a­tional Lead­er­ship Clout" — Phillip A. Tanzilo, MBA (Trans­for­ma­tional Learn­ing & Leadership)
"Multi­gen­er­a­tional Lead­er­ship" — by Cheri Baker, owner of Emer­gence Con­sult­ing®
"Social Media Tips for a Multi-Generational Work­force" by Jes­sica Simko
"The Gen Y Fac­tor: Secrets to Attract­ing and Engag­ing 'New Age' Atten­dees" by Karen Brost
"The Lead­ers We Need Now" by Tamara J. Jack­son (2010 Har­vard Busi­ness Review)
"What You Need to Know About Men­tor­ing the New Gen­er­a­tions"  by Devon Scheef and Diane Thiefoldt (2004 The Learn­ing Cafe)
Some Great Pod­casts and Videos:
"Gen­er­a­tional View of Pub­lish­ing" — Video on the future of pub­lish­ing. It is an amaz­ing piece.
"Mil­len­nial Gen­er­a­tion" — Diane Thielfoldt  of TheLearningCafe.net dis­cusses the Mil­len­nial gen­er­a­tion and the impact of gen­er­a­tional dif­fer­ences in the workplace
Comments