Beware of the Chameleon Effect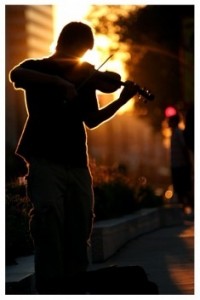 You know what's amazing? It's the ability we all have to change our environment based upon our view of it. I'm not talking about any mysticism or hocus pocus, but a proven psychological ability that we as human beings have. This ability is known as the "Chameleon Effect", also known as the "Pygmalion Effect" in some circles, it has to do with our natural sense of value attribution and how it changes life around us. Value attribution or the inclination for people to superimpose or imbue a thing with certain characteristics or qualities based upon our initial perception. The initial impression we have of something or someone will cause us to view that very same thing in such a way that's consistent with our initial impression. When Joshua Bell (a Grammy Award-winning violinist who plays to sold-out crowds in symphony halls around the world) dressed in jeans, a baseball cap and sneakers pulled out his $3.5 million dollar Stradivarius violin on a crowded subway platform in Washington D.C. during morning rush hour and proceeded to play, very few people seemed to notice or even care. Why would that be? Value attribution acts as a mental shortcut to determine what's worthy of our attention and based upon what people saw (first impression), they assumed that Mr. Bell was an average street performer simply trying to make a few dollars any way he could.
The Chameleon Effect takes value attribution one step further by super imposing our view on the person or object and having the result "be as we'd expect it to be". A perfect example of this was seen in an experiment conducted with the Israeli army within one of its training programs in which 105 soldiers were selected to participate in a very demanding 15-week commander training program.
Commander Training
The program was a rigorous and intense process, requiring intense physical training, mental concentration and 16-hour workdays.  For the experiment, this particular course was going to be different from any of the previous ones. Dr. Dov Eden, psychologist from Tel Aviv University, informed the training officers leading the program that the army had accumulated comprehensive data on each of the trainees. He told the officers that, based on this information, each soldier had been classified into one of three "command potential" (CP) categories: high, regular and unknown (due to insufficient information). Trainees from each category were divided equally into four trainee classes. "You will copy each trainee's CP," Eden told the officers, "into his personal record. You are requested to learn your trainees' names and their predicted CP by the beginning of the course." The trainees didn't have any idea that any of this was going on. And the officers didn't know that the so-called command potential, along with the supporting data, was completely fictitious. Scores were randomly assigned to the trainees and had nothing to do with their intelligence, past performance or ability.
At the end of 15 weeks, Eden returned and discovered something amazing. Upon finishing the course, the soldiers took a test that measured their new knowledge of "standard operating procedures, combat tactics, topography, and such practical skills as navigation and accuracy of weapon firing." The effects of assigning soldiers to the different command potential categories became apparent in the test results.
The soldiers who the training officers thought had a high CP score performed better on the test (scoring an average of 79.98) than their "unknown" and "regular" counterparts (who scored 72.43 and 65.18, respectively). This was a 22.7% improvement. It appeared that being labeled as having high leadership potential translated directly into the soldier's actual improved ability. Remember that neither the trainers nor the trainees had any idea what was going on. Without realizing it, the trainees had taken on the characteristics of the diagnoses ascribed to them by the officers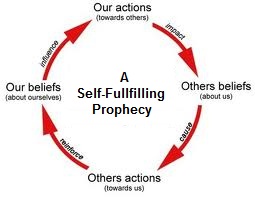 When Dr. Eden informed the trainers that the command potential scores had actually been made-up and assigned randomly, they staunchly disagreed. In an attempt to prove their point, they offered up evidence that the high-potential soldiers indeed performed better on their exit exams. In psychology this is known as circular logic. The exit tests confirmed the initial diagnosis; the trainees had merely molded their abilities to the diagnoses ascribed to them. This molding process becomes self-perpetuating. When we take on the characteristics assigned to us, the diagnosis is reinforced and reaffirmed. Have you ever witnessed this occur? When we brand or label people, they take on the characteristics of the diagnosis, displaying the Chameleon Effect.
In the book, Sway: The Irresistible Pull of Irrational Behavior by Ori Brafman and Rom Brafman, the authors talk about the Chameleon Effect this way:
We're constantly sending and receiving cues and subtle messages to and from one another — swaying and being swayed, even if our rational brain hasn't been let in on the secret. As this study illustrates, we can't help but take on the characteristics others ascribe to us. There's a hidden dance at work within even the most seemingly straightforward interactions — and in this way, we're all psychological chameleons.
The Chameleon Effect in the Workplace
This phenomenon is of course by no means limited to the Israeli military. A meta-analysis conducted by psychologists at SUNY Albany suggested that these same diagnostic effects operate in the workplace. I'm sure you know what I mean when asked if you've ever been fortunate enough to work for a boss who values you. If you have you'll know that we as people have a tendency to rise to meet the high expectations set for us. On the other hand, there's nothing that will make a person feel more inept and demoralized than a supervisor who is convinced you don't have what it takes to do what it is he or she wants you to do.
Looking back on my life and career, I myself have been seen the Chameleon Effect both on the sending and receiving side. I wish I knew then what I know now because it definitely would have made some difficult situations a little bit easier.
What are your thoughts on this psychological phenomenon?
Have you ever experienced the Chameleon Effect?
What do you believe we as people need to do about this?
Check out some of the great reads below!
Comments