Beware of the Chameleon Effect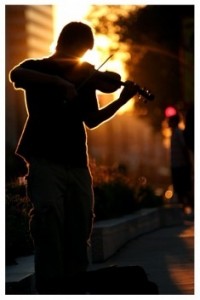 You know what's amaz­ing? It's the abil­ity we all have to change our envi­ron­ment based upon our view of it. I'm not talk­ing about any mys­ti­cism or hocus pocus, but a proven psy­cho­log­i­cal abil­ity that we as human beings have. This abil­ity is known as the "Chameleon Effect", also known as the "Pyg­malion Effect" in some circles, it has to do with our nat­ural sense of value attri­bu­tion and how it changes life around us. Value attri­bu­tion or the incli­na­tion for peo­ple to super­im­pose or imbue a thing with cer­tain char­ac­ter­is­tics or qual­i­ties based upon our ini­tial per­cep­tion. The ini­tial impres­sion we have of some­thing or some­one will cause us to view that very same thing in such a way that's con­sis­tent with our ini­tial impres­sion. When Joshua Bell (a Grammy Award-winning vio­lin­ist who plays to sold-out crowds in sym­phony halls around the world) dressed in jeans, a base­ball cap and sneak­ers pulled out his $3.5 mil­lion dol­lar Stradi­var­ius vio­lin on a crowded sub­way plat­form in Wash­ing­ton D.C. dur­ing morn­ing rush hour and pro­ceeded to play, very few peo­ple seemed to notice or even care. Why would that be? Value attri­bu­tion acts as a men­tal short­cut to deter­mine what's wor­thy of our atten­tion and based upon what peo­ple saw (first impres­sion), they assumed that Mr. Bell was an aver­age street per­former sim­ply try­ing to make a few dol­lars any way he could.
The Chameleon Effect takes value attri­bu­tion one step fur­ther by super impos­ing our view on the per­son or object and hav­ing the result "be as we'd expect it to be". A per­fect exam­ple of this was seen in an exper­i­ment con­ducted with the Israeli army within one of its train­ing pro­grams in which 105 sol­diers were selected to par­tic­i­pate in a very demand­ing 15-week com­man­der train­ing program.
Com­man­der Training
The pro­gram was a rig­or­ous and intense process, requir­ing intense phys­i­cal train­ing, men­tal con­cen­tra­tion and 16-hour work­days.  For the exper­i­ment, this par­tic­u­lar course was going to be dif­fer­ent from any of the pre­vi­ous ones. Dr. Dov Eden, psy­chol­o­gist from Tel Aviv Uni­ver­sity, informed the train­ing offi­cers lead­ing the pro­gram that the army had accu­mu­lated com­pre­hen­sive data on each of the trainees. He told the offi­cers that, based on this infor­ma­tion, each sol­dier had been clas­si­fied into one of three "com­mand poten­tial" (CP) cat­e­gories: high, reg­u­lar and unknown (due to insuf­fi­cient infor­ma­tion). Trainees from each cat­e­gory were divided equally into four trainee classes. "You will copy each trainee's CP," Eden told the offi­cers, "into his per­sonal record. You are requested to learn your trainees' names and their pre­dicted CP by the begin­ning of the course." The trainees didn't have any idea that any of this was going on. And the offi­cers didn't know that the so-called com­mand poten­tial, along with the sup­port­ing data, was com­pletely fic­ti­tious. Scores were ran­domly assigned to the trainees and had noth­ing to do with their intel­li­gence, past per­for­mance or ability.
At the end of 15 weeks, Eden returned and dis­cov­ered some­thing amaz­ing. Upon fin­ish­ing the course, the sol­diers took a test that mea­sured their new knowl­edge of "stan­dard oper­at­ing pro­ce­dures, com­bat tac­tics, topog­ra­phy, and such prac­ti­cal skills as nav­i­ga­tion and accu­racy of weapon fir­ing." The effects of assign­ing sol­diers to the dif­fer­ent com­mand poten­tial cat­e­gories became appar­ent in the test results.
The sol­diers who the train­ing offi­cers thought had a high CP score per­formed bet­ter on the test (scor­ing an aver­age of 79.98) than their "unknown" and "reg­u­lar" coun­ter­parts (who scored 72.43 and 65.18, respec­tively). This was a 22.7% improve­ment. It appeared that being labeled as hav­ing high lead­er­ship poten­tial trans­lated directly into the soldier's actual improved abil­ity. Remem­ber that nei­ther the train­ers nor the trainees had any idea what was going on. With­out real­iz­ing it, the trainees had taken on the char­ac­ter­is­tics of the diag­noses ascribed to them by the officers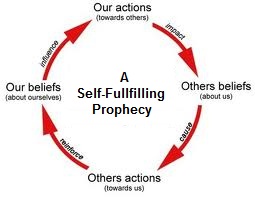 When Dr. Eden informed the train­ers that the com­mand poten­tial scores had actu­ally been made-up and assigned ran­domly, they staunchly dis­agreed. In an attempt to prove their point, they offered up evi­dence that the high-potential sol­diers indeed per­formed bet­ter on their exit exams. In psy­chol­ogy this is known as cir­cu­lar logic. The exit tests con­firmed the ini­tial diag­no­sis; the trainees had merely molded their abil­i­ties to the diag­noses ascribed to them. This mold­ing process becomes self-perpetuating. When we take on the char­ac­ter­is­tics assigned to us, the diag­no­sis is rein­forced and reaf­firmed. Have you ever wit­nessed this occur? When we brand or label peo­ple, they take on the char­ac­ter­is­tics of the diag­no­sis, dis­play­ing the Chameleon Effect.
In the book, Sway: The Irre­sistible Pull of Irra­tional Behav­ior by Ori Braf­man and Rom Braf­man, the authors talk about the Chameleon Effect this way:
We're con­stantly send­ing and receiv­ing cues and sub­tle mes­sages to and from one another — sway­ing and being swayed, even if our ratio­nal brain hasn't been let in on the secret. As this study illus­trates, we can't help but take on the char­ac­ter­is­tics oth­ers ascribe to us. There's a hid­den dance at work within even the most seem­ingly straight­for­ward inter­ac­tions — and in this way, we're all psy­cho­log­i­cal chameleons.
The Chameleon Effect in the Workplace
This phe­nom­e­non is of course by no means lim­ited to the Israeli mil­i­tary. A meta-analysis con­ducted by psy­chol­o­gists at SUNY Albany sug­gested that these same diag­nos­tic effects oper­ate in the work­place. I'm sure you know what I mean when asked if you've ever been for­tu­nate enough to work for a boss who val­ues you. If you have you'll know that we as peo­ple have a ten­dency to rise to meet the high expec­ta­tions set for us. On the other hand, there's noth­ing that will make a per­son feel more inept and demor­al­ized than a super­vi­sor who is con­vinced you don't have what it takes to do what it is he or she wants you to do.
Look­ing back on my life and career, I myself have been seen the Chameleon Effect both on the send­ing and receiv­ing side. I wish I knew then what I know now because it def­i­nitely would have made some dif­fi­cult sit­u­a­tions a lit­tle bit easier.
What are your thoughts on this psy­cho­log­i­cal phenomenon?
Have you ever expe­ri­enced the Chameleon Effect?
What do you believe we as peo­ple need to do about this?
Check out some of the great reads below!
Comments