How Does Your Company or Organization View Diversity?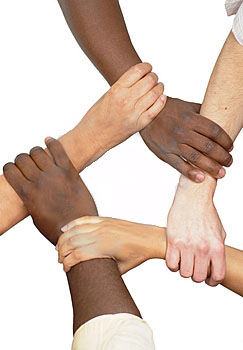 It's funny but unless you've been under a rock for the past few years, it seems as though the words diver­sity and diver­sity aware­ness have been thrown around a lot by orga­ni­za­tions. Many of them, both for profit and non-profit, have focused their atten­tion on diver­sity and have made a strong argu­ment as to the impor­tance of hav­ing a diverse work­force who under­stands diver­sity and has a min­i­mal level of diver­sity awareness.
What I find inter­est­ing is that many, in an attempt to ensure that their orga­ni­za­tion embraces diver­sity, go the route of hav­ing their per­son­nel take diver­sity courses cov­er­ing the dif­fer­ent types of peo­ple that exist in the world. Many of these same courses spend much of their time going over the aspects of either the dif­fer­ent cul­tures or the dif­fer­ent lifestyles that cus­tomers or fel­low work­ers may have. They have a ten­dency of sim­ply focus­ing on tol­er­ance or "leav­ing your biases at the door" when com­ing into work. Treat­ing every­one as equals is impor­tant, but there is a more impor­tant aspect to diver­sity that many orga­ni­za­tions are com­pletely miss­ing the boat on! 
One of the most impor­tant aspects and strengths of diver­sity is the dif­fer­ent per­spec­tives a per­son or group may have about an issue or prob­lem. I've found that peo­ple from dif­fer­ent cul­tures and dif­fer­ent back­grounds have a ten­dency to ana­lyze prob­lems in dif­fer­ent ways. This is one of the main essences and beau­ties of diver­sity. Hav­ing a diverse group enables an orga­ni­za­tion to address the same prob­lem they may be fac­ing from many dif­fer­ent angles.
It is the dif­fer­ences of opin­ion, the dif­fer­ences of per­spec­tive from a diverse inter­nal pop­u­la­tion that gives a group or orga­ni­za­tion a strong advan­tage against a com­peti­tor. If an orga­ni­za­tion or com­pany is made up of peo­ple who fall into many of the same types of social, eth­nic or lifestyle groups, then they may be at a disadvantage.
Have you ever found your­self being forced to re-think the way you address an issue or ques­tion sim­ply because some­one else is address­ing the same prob­lem in a dif­fer­ent way than you would have?
Comments