64 Great Sites and Articles on Diversity and Appreciating Differences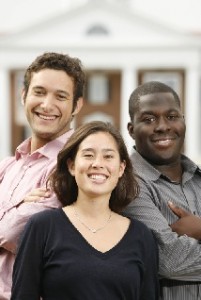 There are many dif­fer­ences that sep­a­rate each and every one of us. For me, that is one of the things that makes life so inter­est­ing and enjoy­able. Unfor­tu­nately, there are peo­ple who incor­rectly assume some­thing about another per­son or the group they belong to sim­ply due to a dif­fer­ence. When it comes to diver­sity and appre­ci­at­ing dif­fer­ences, no one can hon­estly say that they are not inter­ested in it. The rea­son for me stat­ing such a com­ment is because regard­less of who we are or where we come from, every­one has biases toward peo­ple we per­ceive to not be like our­selves. Whether it's a dif­fer­ence in skin color (or shade of the same skin color), dif­fer­ence in lan­guage, or dif­fer­ence in gen­der, we all will have some form of nat­u­rally occur­ring pre­con­ceived opin­ion of a per­son who is not like our­selves. That is, until we edu­cate our­selves and/or sim­ply become a lit­tle more informed about the other person. 
Why do I say it's a nat­u­rally occur­ring pre­con­ceived opin­ion? It's because as human beings we all have a nat­ural curios­ity to know what goes on around us. At the same time, we as human beings have a pref­er­ence that every object (be it a per­son, place, or thing) have some form of iden­ti­fi­ca­tion or label. That's where the nat­u­rally occur­ring pre­con­ceived notion comes in. When­ever we are not able to read­ily iden­tify or label some­thing, our nat­ural curios­ity and thought process will want to cre­ate some form of label in order to store that object within our mem­ory. That label may not be accu­rate and because of this, the mem­ory we store in our sub­con­scious about the object will be bias. The pre­con­ceived notion or 'bias' is based upon the infor­ma­tion that either was avail­able to us at the time the mem­ory was recorded or the infor­ma­tion we chose to pay atten­tion to. 
What is Your Thought?  
Even if a per­son doesn't believe they are insult­ing some­one, they may in fact be doing so. At the same time, the per­son who unknow­ingly is insult­ing another per­son or group is doing noth­ing more than show­ing oth­ers their own lack of knowl­edge. 
Below are some exam­ples of a per­son mak­ing what they believe to be a polite or com­ple­men­tary com­ment but in actu­al­ity can be taken as demean­ing or insult­ing by the other party:
A man­ager hir­ing for an open posi­tion com­ments on an appli­cant who appears to be His­panic or Black says, "I was really impressed with his way of com­mu­ni­cat­ing.  So proper and elo­quent." (Would that per­son say the same thing about a per­son who appeared to be white Caucasian?)
A super­vi­sor for a bus or other pub­lic trans­porta­tion com­pany, who is known to not give many com­ple­ments at all, tells two of his dri­vers (the only two who hap­pen to be female on his team), "I have to say that I'm really impressed with your dri­ving skills!"
A col­lege stu­dent who is hav­ing trou­ble with a math class asks one of his peers in another class who is Chi­nese if he would mind help­ing him with a math prob­lem he is hav­ing in the other course.  The Chi­nese stu­dent asks him why him since he doesn't know him out­side of the class they both share and the class they are shar­ing is an art course.
There are many web­sites and arti­cles on the inter­net that dis­cuss the sub­ject of diver­sity. Below is a list­ing of some of the bet­ter free sites and arti­cles I've come across on diver­sity and the appre­ci­a­tion of dif­fer­ences. These are by no means all the best sites and arti­cles out there, but sim­ply one listing.
The goal here is that you or some­one you know will ben­e­fit from the infor­ma­tion pro­vided in these web­sites and arti­cles. If there is a site or arti­cle, not listed below, that you believe will help oth­ers, please feel free to share it with the rest of us in the com­ment sec­tion at the bot­tom of this list!
Rec­om­mended Read­ing
 
Comments