Renew Your Energy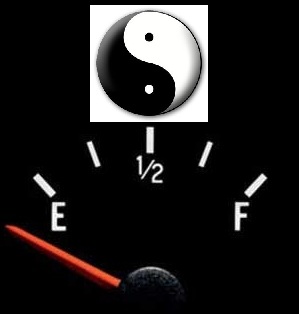 We all have a bat­tery pack within us that helps to sus­tain our per­sonal energy through­out each day. Nope, I'm not talk­ing about the meal we have in the morn­ing with that fresh cup of cof­fee or tea, although that is a part of the over­all energy equa­tion. I'm talk­ing about the per­sonal energy each one of us has when it comes to just going about the day. Either at work or at a base­ball game or the sort, when our per­sonal energy is charged, you feel good. You feel that you can do good work, enjoy game you're watch­ing, or keep up with a group con­ver­sa­tion.  But when your per­sonal energy is down, you find your­self get­ting eas­ily irri­tated, your con­cen­tra­tion becomes more dif­fi­cult to main­tain, your inter­est in doing some­thing begins to be lacking.
Don't worry, every­one feels drained sooner or later of their per­sonal energy. The trick is that just like a recharge­able bat­tery, we need to peri­od­i­cally recharge our own per­sonal energy bat­tery in order to be at our best. Below are a few ways to help you recharge your per­sonal energy:
High­light the Pos­i­tive — Cre­ate a list of activ­i­ties that you enjoy most and which make you feel good. Make it a point to sched­ule at least one of the activ­i­ties on the list into your life each week.
Don't Take Wor­ries with You to Bed! — If you have trou­ble falling asleep because you're think­ing over the day's events or your pon­der­ing about a new idea or a new con­cern of some sort , then stop. Put a pad of paper and a pen next to your bed. What­ever you're wor­ry­ing about before you go to sleep, just write it down. Feel free to do the same if you tend to wake up in the mid­dle of the night. By writ­ing it down, you won't have to worry about for­get­ting it. This is a pow­er­ful way to calm your mind and get a bet­ter night's sleep.
Put into Prac­tice Some Real­is­tic Opti­mism — We can't change what hap­pens to us, but we def­i­nitely can make a choice as to how we respond. Chal­lenge the story you're telling your­self when some­thing that makes you feel bad hap­pens. Is there a more opti­mistic and empow­er­ing story you can tell your­self (and oth­ers) with­out deny­ing the facts?
Just Breath — Here's a sim­ple one, stop what you're doing for a moment and just take one long, deep and slow breath. Take two if you want! By tak­ing a long deep breath (breath­ing in through the nose, hold­ing it in as long as you can while remain­ing com­fort­able, and breath­ing out through the mouth), we increase the oxy­gen lev­els in the blood, relax the mind/body and recharge our per­sonal energy.  A lit­tle trick on this is to try it with your eyes closed.
Take a Break and Take a Walk — When­ever the stress of the day is get­ting to you, and you notice your­self get­ting eas­ily irri­tated, your per­sonal energy bat­tery is get­ting drained too low and it may be time to take a quick get­away.  Just stop what you are doing, take a breath (see above), and go for a walk out­side. Don't just walk around in the office, or near the loca­tion where you are cur­rently being stressed out, just get away for 10 to 15 min­utes. If it's nice out­side, go for a walk outside.
Begin a Con­sis­tent Exer­cise Rou­tine — Come on, you knew this lit­tle piece of advice was com­ing some­where down the line :-).  The key word here is con­sis­tent. Exer­cis­ing is one of the sim­plest ways to recharge your mind and spirit. Doing it con­sis­tently is half the effort. One doesn't need to work out in a gym and per­form a body build­ing rou­tine if they don't want to. Some­thing as sim­ple as tak­ing a 30 to 45 minute walk every morn­ing will work.
Turn off Email Once a Day — This is one that rings true to my own heart. I myself am guilty of mul­ti­task­ing with email. Look­ing at, sort­ing and respond­ing to emails while I'm either on the phone or talk­ing with some­one. Believe it or not, this puts quite a drain on a per­son. A way to help avoid this is to turn off email for at least 60 to 90 min­utes each day. Dur­ing that time focus all your energy on a spe­cific task at hand.
Take More than One or Two Breaks Each Day — No mat­ter what you do for work, no mat­ter how impor­tant it is, you will do a bet­ter job on it if you take some quick breaks through­out the day. The ideal amount of time is every 90 min­utes or so. Why? Because for most peo­ple, the nat­ural rhythm their bod­ies go through occurs once every 90 min­utes. Sim­i­lar to sleep cycles that occur every 90 min­utes while we're asleep, our bod­ies con­tin­ues with their cycles every 90 min­utes through­out the day, mov­ing between peri­ods of high energy and low energy.
Stay Away from Your Desk (and the Office) Dur­ing Lunch — In addi­tion to the peri­odic breaks through­out the day, tak­ing time to eat your lunch is a very impor­tant time to help recharge your energy. By tak­ing an extended break in the mid­dle of the day to eat your lunch, prefer­ably away from the office, you'll be able to bet­ter han­dle the rest of the day.
Every­one peri­od­i­cally needs to recharge their per­sonal energy. Not doing so, will result in increased stress, increased issues at work and at home as well as an even­tual detri­ment to health. The above are not the only ways in which a per­son can re-charge their per­sonal bat­tery, but they are ones that have helped many indi­vid­u­als (includ­ing myself) recharge.
What are some ways you recharge your per­sonal batteries?
Comments