Some Interesting Facts about Laughing that You May Not Have Known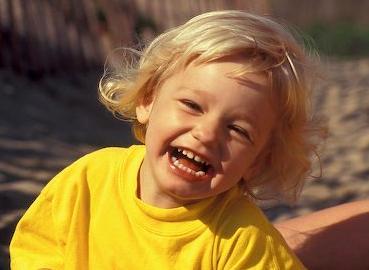 One of my favorite personal realizations is that life is too short not to enjoy it. Don't get me wrong, I have my difficult and challenging days from time to time (sometimes more than expected and/or wanted). With that said, I figured one very quick and simple way a person can enjoy life is by finding something funny and having a good laugh.
Did You Know Laughter:
Is a great team builder and social equalizer – When we laugh with a group, social/class/cultural/racial barriers to communication are quickly overcome and a mutual feeling of trust develops within the group. Laughing is contagious (just think of the laugh tracks of television situation comedies).
People who laugh often have a tendency to be more popular and are likely to have a greater impact on group decisions. Research shows that when we laugh, we tend to talk more, make more eye contact and do more of the things that help us connect with others. Laughter also lessens tension.
It's hard to feel angry, tense or anxious when you're laughing. 🙂
Interestingly enough, regardless of the culture, laughter sounds the same. This has lead some researchers to believe laughter helped our ancestors bond. In fact, the sound of laughter is so common and familiar that it can be recognized if played backwards on tape.
Is Aerobic – it increases the oxygen intake of your body and also gives your diaphragm a good workout. Hearty laughter massages our major organs (scientists call it 'internal jogging') and boosts circulation in our lymphatic system,
Varies with age – Children who are six years of age laugh an average of 300 times a day. Adults laugh an average of 15 times a day.
Lowers levels of stress hormones and strengthens the immune system – The levels of two stress hormones, epinephrine and cortical which suppress the body's immune system, actually drop after a dose of laughter. Laughing also helps us breathe more deeply, increases our heart rate, and stretches many different muscles in our face and upper body and helps our muscles to relax.
According to a study by Dr. Lee Berk and Dr. Stanley Tan of Loma Linda University in California
Eustress or "good stress" is created by laughter
Laughter increased the natural killer cells that attack viruses along with some types of cancer and tumor cells.
Is an inexpensive medicine – sustained laughter has been shown to stimulate an increased rate of endorphins, the body's natural morphine. It also helps to normalize our digestive system and may help resolve to stress-related constipation, diarrhea, gas and even ulcers. Laughter has also been shown to regulate our sleep system and can help to overcome many sleep disorders.
Balances the brain – During normal beta activity, the left and right sides of your brain look different under a PET (positron emission tomography) scan. When you laugh, both sides look almost identical.
Here are some other interesting facts about laughing:
People laugh at jokes and funny movies; however, 80% of our laughter occurs during everyday comments in everyday social situations.
We used to laugh 20 minutes out of every day in the 1950's.  Now we laugh for 6 minutes out of every day. What's changed between now and then?
A daily laughter workout of 15 minutes can burn 40 calories and melt away 4 pounds over the course of a year.
A Few Good Ideas for Finding a Way to Have a Laugh
Find funny clips on YouTube. Many times I overhear family members and friend talking about a funny clip they've seen or heard of on YouTube.
Watch a comedy movie.
Check out some late night talk show such as Jay Leno, or Conan O'Brian.
Watch a comedy on television. Many of the half hour situation comedies (sitcoms) are great for a quick laugh. Most often many within a half hour period.
Go to a comedy club. Some of the best laughs I've ever had have come from being in a large crowd listening to stand up comics talk about a particular event. Since laughter is contagious and is enjoyed more when done in a group, the positive energy in the room that manifests itself when everyone is laughing hard is big.
Work on becoming friends with people who are happy/funny people. I can almost guarantee you that when you become friends with a people who are funny and happy, they will every so often have you laughing at one thing or another.
Checkout the comics in the local newspaper or subscribe to a daily or weekly online comic strip.
Again, I say life is just way too short not to enjoy it so why not choose to do so?
When was the last time you had a good laugh?
What are ways do you believe are good for helping a person get a good laugh? If you know of one, why not share it in the comments section below?
Comments