Hey! Are You Actually Talking to Yourself?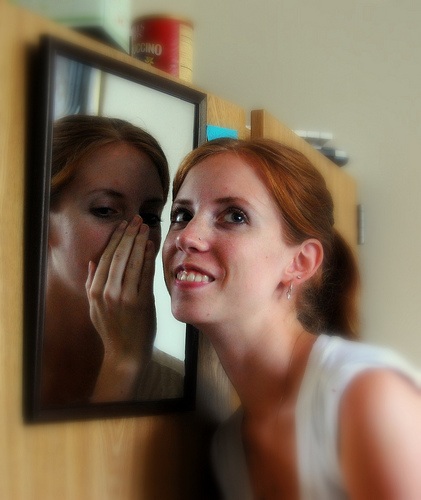 Do you ever find your­self talk­ing to your­self? Either out loud or qui­etly in your mind? A lot of peo­ple asso­ciate talk­ing to your­self as more than a lit­tle strange. Some even say that if you talk to your­self, you're just a lonely per­son with no real friends and that you may need to seek psy­chi­atric coun­sel­ing. But I don't agree with that. I don't even agree with any­one who has really any­thing neg­a­tive to say about talk­ing to your­self. The rea­son being that any­one who has a healthy mind will find them­selves talk­ing to them­selves more often than not. But what does that really say about a person?
It's been dis­cov­ered that talk­ing to your­self is not only nor­mal, but may in fact help a per­son to become a bet­ter prob­lem solver as well as have a more enjoy­able life.  The very tac­tic of talk­ing to your­self has been seen by sci­en­tist to help peo­ple find solace amid life's pain points when­ever they occur.  Instead of call­ing it "talk­ing to your­self", I pre­fer call­ing it "Think­ing Out Loud" because it is really much more accu­rate of a statement.  
One of the ear­lier stud­ies that involved the sig­nif­i­cance of talk­ing to your­self (or think­ing out loud

) was done by Dr. Paul Hor­ton, psy­cho­an­a­lyst and co-author of "The Solace Par­a­digm". His study, which was done by sur­vey­ing 160 adults between the ages of 22 and 78, showed that "being with some­one" was ranked num­ber one on the list of things peo­ple needed and wanted in order to feel solace. The very act of talk­ing to your­self give peo­ple the feel­ing that they are not really alone in fac­ing an issue. That same study showed "going for a walk" as tenth in rank­ing. Below is the full rank­ing from that study:
10 MOST POPULAR SOURCES OF SOLACE
1. Being with some­one else.
2. Lis­ten­ing to music.
3. Watch­ing TV.
4. Eat­ing.
5. Read­ing.
6. Talk­ing to oneself.
7. Prayer.
8. A spe­cial book, such as the Bible.
9. Recall­ing pleas­ant memories.
10. Going for a walk.
The study showed that pri­vate behav­iors, such as talk­ing to your­self, actu­ally lifted peo­ple out of many states of depres­sion.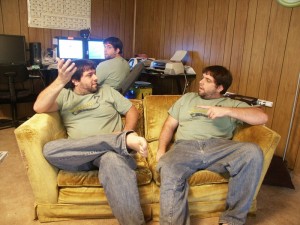 Dr. Hor­ton, who was also a psy­chi­a­trist at Child Guid­ance Cen­ter in Meri­den, CT when the study was con­ducted, said "psy­cho­analy­sis has focused too much on sex­u­al­ity and aggres­sion, but the abil­ity to give solace to one­self is the basis of such major pos­i­tive feel­ings as joy, awe, for­give­ness, and gen­eros­ity." (New York Times arti­cle from Feb­ru­ary 4, 1988)
In another study pub­lished in Early Child­hood Research Quar­terly by Pro­fes­sor Adam Winsler, an asso­ciate pro­fes­sor of psy­chol­ogy at George Mason Uni­ver­sity, 5 year olds were noted to do bet­ter on motor tasks when they talk to them­selves out loud than when they were silent.  The same study showed that 78% of chil­dren per­formed either the same or bet­ter on a rou­tine task when talk­ing to them­selves than when they were silent.
So What Does It All Mean?
When I read these stud­ies, I'm not really sur­prised. When I ask a ques­tion out loud, it sounds dif­fer­ently and reg­is­ters dif­fer­ently in my mind than when I sim­ply "think" the same ques­tion inter­nally. Have you ever heard your­self ask­ing a friend or col­league a ques­tion only to find out that you fig­ured out the answer to your ques­tion once you fin­ish ask­ing it? Many times, the very act of say­ing it out loud is what causes the mind to think in a dif­fer­ent way.
So when was the last time you talked to yourself?
Comments