A Friend's Diagnosis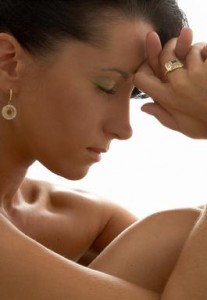 We all have sto­ries to share. Some peo­ple have good sto­ries, oth­ers have bad ones, but all of them are sto­ries that talk about a person's life and what they have learned in the process. You may find your­self in the future (if you haven't already) learn­ing about a per­sonal strug­gle a close friend of yours is going through. You may find your­self look­ing at your life in a dif­fer­ent way after learn­ing about your friends strug­gle. I thought it was impor­tant for me to share with my read­ers what a friend of mine told me she was going through for the past year. In actu­al­ity she was going through it for most of her life. She just didn't know it. Her story made me reflect a lit­tle on my own life.
A Friend Con­fided In Me
Recently a friend of mine, Linda, opened up to me about an issue she's been fac­ing for a long time. She told me last year she was diag­nosed with a con­di­tion called "dou­ble depres­sion". "I've never heard of dou­ble depres­sion before." I told her.  Linda con­fided in me that she never had heard of it either, but that once she was diag­nosed with it she felt both scared and a lit­tle bit puz­zled. She had never thought any­thing was men­tally wrong with her until a cou­ple of doc­tors diag­nosed her with this con­di­tion (she had got­ten a sec­ond opin­ion to be sure). When Linda told me this, I was puzzled.
I asked her that if she thought there was noth­ing wrong, why she went to a doc­tor. On top of that why choose to go to a psy­chi­a­trist of all kinds of doc­tors to go to. She told me her hus­band John, after a few years of mar­riage, had asked her to check with a psy­chi­a­trist just to make sure noth­ing was poten­tially wrong.  She con­tin­ued to say that John noticed that she was, over the past year or two, becom­ing eas­ily aggra­vated with things and that she appeared to not enjoy much of any­thing as much as she used to.
John and Linda had known each other for a long time. Hav­ing met in col­lege, they were friends (dat­ing other peo­ple at the time they met). They hung out in groups with their then sig­nif­i­cant oth­ers and then later on started dat­ing. One thing led to another and they found them­selves in love and decided to get mar­ried. I have known both John and Linda since col­lege as well and they've always had a great rela­tion­ship. Linda men­tioned that their rela­tion­ship was still strong, but John was just con­cerned and wanted to be sure. Well, Linda told me that she and John went to a regional teach­ing hos­pi­tal that had a rep­u­ta­tion for hav­ing a very good psy­chol­ogy depart­ment. John went with her the first time, she said because she was ner­vous and a lit­tle anx­ious about vis­it­ing a psy­chi­a­trist for the first time. She told me that through her teenage years, she had been going to a coun­selor for what she called bouts of "the blues" that look­ing back she thought was sim­ply teenage mood swings. The only thing dif­fer­ent was that her down moods were much more preva­lent and pro­longed than the times she felt she wasn't down. The down moods would last at least a week to even three weeks with­out let­ting up
A Diag­no­sis I've Never Heard Of
"The doc­tor I met with wanted to know every­thing about the bouts of 'the blues' I would have." Linda told me. "How long they would last, how long the period between being down and how low I would get in com­par­i­son to when I felt nor­mal." She then told me that the doc­tor had some sus­pi­cions but didn't want to give any diag­no­sis until he was sure. After a series of more ques­tion­ing, the doc­tor told Linda that he believed she suf­fered from what is called "Dou­ble Depres­sion". Linda asked why. What the doc­tor told her became like a light­en­ing strike to her she said. Dur­ing the exam­i­na­tion, the doc­tor (and Linda) dis­cov­ered that dur­ing the times when she felt OK and not down or depressed, she wasn't exactly happy at all. She felt just "emo­tion­ally com­fort­able". She never felt bet­ter than that. All her life, long as she could remem­ber, she never felt any hap­pier than that. In fact, it turned out she never expe­ri­enced what it was like to be happy at all. John asked the doc­tor how that could be. So many times he had wit­nessed Linda being happy. He then men­tioned as few exam­ples where he saw Linda being happy. Always smil­ing and enjoy­ing her­self. Linda then con­fided in John that she never felt any­thing more than emo­tion­ally com­fort­able. At time it would sim­ply be emo­tion­ally numb. She didn't want peo­ple to be uncom­fort­able around her so she would always put on a smile and laugh some in order to be in the norm of the moment.  She thought every­one felt that way and that it was normal.
John and Linda decided to get a sec­ond opin­ion with another doc­tor at a dif­fer­ent prac­tice and dis­cov­ered the sec­ond doc­tor and his office part­ner giv­ing the same diag­no­sis of dou­ble depres­sion. "This was such an eye opener to me." Linda told me. "All my life I remem­ber feel­ing emo­tion­ally OK as what I would be feel­ing when­ever I wasn't sad or depressed. When I was depressed, it would be like that for a cou­ple of days or up to a week. When I was feel­ing OK it would be for a cou­ple of days. I thought every­one felt that way and that it was sim­ply 'Yeah, life is hard so get over it and live on' type of atti­tude every­one expe­ri­enced." All the times in Linda's life when she wasn't feel­ing OK she would just put on a con­tent face and live day to day. When she was feel­ing OK was when she would put on a smile. To me this sounded strange at first but look­ing at it from her per­spec­tive I under­stood her rea­son­ing. Grow­ing up we all get accus­tomed to the appar­ent norms in life. The way oth­ers act around sit­u­a­tions, the way peo­ple behave on a day to day basis and the way we our­selves fit into the entire life equation.
As I heard Linda telling me all this, I found myself appre­ci­at­ing my own life a lit­tle more. I knew how it felt to be happy. I never felt just OK or emo­tion­ally numb when I was "feel­ing my best". Linda on the other hand never expe­ri­enced that all her life.
Linda then asked, "Have you noticed if I seemed more relaxed or a lit­tle dif­fer­ent the past 6 months?" I had to admit that my girl­friend and I had com­mented on more that one occa­sion on how Linda seemed to have changed recently. She seemed to be enjoy­ing things more and have even become a lit­tle more out­go­ing than we were use to see­ing. All good things we thought. "The per­son who has seen the most change was John. He seems to be much hap­pier in our rela­tion­ship. Not that he wasn't happy before." Linda men­tioned. "It's just that John was con­cerned there was more to it and he wanted to be sure."
"So what causes double-depression?" I asked and Linda said that the doc­tors aren't quite sure what causes it. What they do know is that many peo­ple have made great improve­ments with the use of some med­ica­tions. "I was ner­vous at first. Not know­ing what the med­ica­tions would be doing to me." Linda said.  The only expe­ri­ence she had with these types of sit­u­a­tions was what she saw in many movies and tele­vi­sion shows (shows where peo­ple in psy­chi­atric wards of clin­ics and hos­pi­tals acted all strange while being on med­ica­tions for men­tal con­di­tions). The doc­tor told her that many times the rea­son for depres­sion is a chem­i­cal imbal­ance that may exist in the body and that cer­tain med­ica­tions may help the body bet­ter reg­u­late itself. With that said she said she decided to give it a try with the med­ica­tion and have the doc­tors keep tabs on her with peri­odic check up to see how things are going. Many of the med­ica­tions that help the body reg­u­late the chem­i­cals it nat­u­rally pro­duces can and will most likely take a few weeks for a per­son to notice any difference.
After a month of start­ing the new med­ica­tion, she noticed a lit­tle bit of a change. The one who noticed the most was her hus­band John. She wasn't as snappy at him or oth­ers, and she seemed to be enjoy­ing her time more was what John told her. As time went on (weeks/then months) her whole fam­ily noticed the change. A change for the bet­ter she said. She was calmer and not as quick to pre-judge peo­ple or give a snappy opin­ion­ated sound­ing remark on some­thing she didn't agree with. "There was one other thing," Linda told me, "I started to feel a strange feel­ing. I never felt this feel­ing before and so it was mak­ing me a lit­tle ner­vous and at times scared. The funny thing I came to real­ize is that the feel­ing I was now feel­ing was hap­pi­ness." Linda had never really expe­ri­enced the emo­tion of hap­pi­ness in her life. "It was such an alien feel­ing to me. I was more than com­fort­able. I felt as though I was enjoy­ing the day more. The time I was hav­ing just walk­ing from one point to another. After work, I'd be walk­ing to my car a few blocks away and I remem­ber feel­ing good. Almost too good I thought. That is what got me scared a lit­tle. Meet­ing with my doc­tor, and dis­cussing it with my hus­band, is when I real­ized the emo­tion was hap­pi­ness." Linda told me. "I found myself look­ing out the win­dow of the build­ing I work in or sit­ting at home look­ing at pic­tures I had on my wall of fam­ily and friends and think­ing 'I really am grate­ful to have such a lov­ing fam­ily and many good friends.' "
An Inter­est­ing Epiphany Came My Way
As I was hear­ing all this, it made me won­der how many other peo­ple out there take hap­pi­ness for granted. Hear­ing Linda tell me all this made me look a lit­tle bit at myself. Have I ever fully appre­ci­ated the friends and fam­ily that I have? Have I ever appre­ci­ated the life that I was lead­ing? Linda was already in her early thir­ties and it wasn't until then that she, for the first time in her life, expe­ri­enced the feel­ing of hap­pi­ness. Once she did, it made her truly appre­ci­ate the things she had. How fas­ci­nat­ing that it was this new expe­ri­ence in joy that opened up a new world for her.  I couldn't even being to imag­ine how it would be to not be able to know what hap­pi­ness was. Linda then said, "One of the rea­sons I'm let­ting you know about what I was going through is because you're one of my close friends and we've known each other a long time. Also, since hav­ing this new expe­ri­ence, I wanted to share with friends and fam­ily how impor­tant our lives are and how grate­ful I am for shar­ing my life with them. After expe­ri­enc­ing hap­pi­ness for the first time in my life, I found that life was meant to be enjoyed. No longer was I emo­tion­ally numb and just mov­ing through life doing what I needed to do at work and at home. Now I was actu­ally see­ing the joys and oppor­tu­ni­ties life gives us everyday."
Wow, that mes­sage was a strong one for me. I know that life is too short and meant to be enjoyed every­day, but I did not and could not place myself into the expe­ri­ence that Linda was feel­ing now since her ini­tial diag­no­sis and treat­ment. I guess we all really can appre­ci­ate the joys and oppor­tu­ni­ties we have in life as long as we think about how it would be with­out them. How it would be with­out a fam­ily. How it would be with­out friends. How it would with­out the abil­ity to drive, or the abil­ity to walk, or the abil­ity to see or hear. These are things many of us take for granted. But every so often, it's good to stop for a moment and reflect a lit­tle on the things we have and how our life might be dif­fer­ent if we didn't have them. Linda's expe­ri­ence helped me to start peri­od­i­cally reflect on this. I now set up a lit­tle bit of time every cou­ple of days or so (like after work or in the morn­ing) to reflect on the things I have and the peo­ple in my life.
Have you ever reflected on the things in your life that you were grate­ful to have? Have you ever truly appre­ci­ated your fam­ily? Have you ever really appre­ci­ated your friends? What are some of your thoughts on the above story. Do you have any sto­ries in your life that caused you to reflect?
Comments