Once More…You Know What They Say About ASSUMING!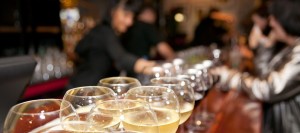 Over the last four weeks I've needed to travel to Orlando, Florida and then to New York City, New York. Whenever I have the opportunity to travel to such places I love taking the opportunity to have lunch or coffee at "watering holes" that the locals like to frequent. It really gives a person a good perspective on the community. In addition, if you enjoy meeting people and having thought provoking conversations, this can be a very good exercise to go through. However, it appears that one always has to be on guard against those individuals who come up to you and begin to speak with you about something or another as if they know the world more about the subject than you do. Even though they just met you! Ever meet anyone like that?
Word to the Wise: "Never assume you know more than the person you are speaking with." Especially if you just met them 🙂 .
A Recent Trip to Mid-Town Manhattan
When I was last in NYC, I had the pleasure of going to one of the local Irish pubs in midtown Manhattan. The staff there were really excellent conversationalists as were many of the patrons. Never-the-less, I never cease to be surprised at those individuals who come out of nowhere and make presumptions about "who you are" or "what you can do for them" or better yet "what they can do for you (but verbally make it clear to you that they have no intention of helping you with anything because they prefer not to mix business with pleasure….as though someone was even asking them to or not). One person in particular mentioned to me that they were a marketing salesperson who directed a theatre company in the New York area but again he didn't like mixing business with pleasure so don't try to ask him for any favors. My personal thought was a simple smile and nothing more, "because I wasn't even thinking about asking him for any favors." Goodness! I just met the person that evening!
We as human beings often have a need to place identifying characteristics on things in order to be able to better deal with them in our lives. That's part of human nature. But when a person makes a negative judgment call about another person they just met, especially if it's you, you can't always help but feel a little taken by surprise.
Do I have to say that people come to me for advice on money, contacts, because of the main circles of influence in specific industries that I have? Of course not and I didn't. But I've always found it interesting how a person I just met begins to speak with me on how they are attempting to break into a particular industry and they start giving me advice on how they are doing it and why. Does it matter that I just happen to have a certain amount of influence in that very same industry? Does it matter that I happen to have family and dear close friends in high level positions in that particular industry? Does it matter that I've been involved in high level roles within the industry that the person is speaking to me about? Does it matter if my closest cousin and his partner are two of the largest philanthropists and contributors to the arts in New York? Of course not! I didn't bring it up and I did not feel a need to bring it up. They didn't ask and I didn't need to say it. I'm just sincerely grateful and comfortable with the things I'm doing in my life and the path that I'm on. I've done a great number of things in life (and it's not over yet 😉 ).
Missing Opportunities
Going back to my conversation at that great little Irish pub in mid-town Manhattan and the many individuals I met that evening, was that the two individuals who were more than a little presumptuous in their mannerisms with me unfortunately can be representative of other people out there. People who I believe are very good hearted people but who may want to pause take a step back and realize that the person they are speaking with "may" be someone that they need to connect with or may be that person who connects them with the group they need or may be the person willing to pay for their next season's arts production. People who, due to making negative assumptions, made a bad impression on someone and missed the opportunity they may have been looking. I'm not saying it would have been guaranteed. But why should someone take such a chance to "shoot themselves in the foot prematurely?"
When I was speaking with these individuals, I couldn't help but wonder how many other individuals these very same people may have spoken with. How many other people did these people, the very same people who were looking for that "special opportunity" from someone, express their dreams and desires with only to turn the other person off due to assuming that they had more knowledge than the other person or had too large of a status role in their mind to be bothered by someone they just met? Someone who ironically they themselves striked-up the conversation with in the first place?
Just a little something to think about the next time you meet that person and strike up a conversation….Cheers!!
Comments