Once More…You Know What They Say About ASSUMING!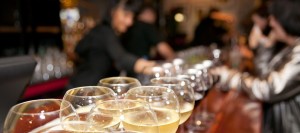 Over the last four weeks I've needed to travel to Orlando, Florida and then to New York City, New York. When­ever I have the oppor­tu­nity to travel to such places I love tak­ing the oppor­tu­nity to have lunch or cof­fee at "water­ing holes" that the locals like to fre­quent. It really gives a per­son a good per­spec­tive on the com­mu­nity. In addi­tion, if you enjoy meet­ing peo­ple and hav­ing thought pro­vok­ing con­ver­sa­tions, this can be a very good exer­cise to go through. How­ever, it appears that one always has to be on guard against those indi­vid­u­als who come up to you and begin to speak with you about some­thing or another as if they know the world more about the sub­ject than you do. Even though they just met you! Ever meet any­one like that?
Word to the Wise: "Never assume you know more than the per­son you are speak­ing with." Espe­cially if you just met them

.
A Recent Trip to Mid-Town Manhattan
When I was last in NYC, I had the plea­sure of going to one of the local Irish pubs in mid­town Man­hat­tan. The staff there were really excel­lent con­ver­sa­tion­al­ists as were many of the patrons. Never-the-less, I never cease to be sur­prised at those indi­vid­u­als who come out of nowhere and make pre­sump­tions about "who you are" or "what you can do for them" or bet­ter yet "what they can do for you (but ver­bally make it clear to you that they have no inten­tion of help­ing you with any­thing because they pre­fer not to mix busi­ness with plea­sure….as though some­one was even ask­ing them to or not). One per­son in par­tic­u­lar men­tioned to me that they were a mar­ket­ing sales­per­son who directed a the­atre com­pany in the New York area but again he didn't like mix­ing busi­ness with plea­sure so don't try to ask him for any favors. My per­sonal thought was a sim­ple smile and noth­ing more, "because I wasn't even think­ing about ask­ing him for any favors." Good­ness! I just met the per­son that evening!
We as human beings often have a need to place iden­ti­fy­ing char­ac­ter­is­tics on things in order to be able to bet­ter deal with them in our lives. That's part of human nature. But when a per­son makes a neg­a­tive judg­ment call about another per­son they just met, espe­cially if it's you, you can't always help but feel a lit­tle taken by surprise.
Do I have to say that peo­ple come to me for advice on money, con­tacts, because of the main cir­cles of influ­ence in spe­cific indus­tries that I have? Of course not and I didn't. But I've always found it inter­est­ing how a per­son I just met begins to speak with me on how they are attempt­ing to break into a par­tic­u­lar indus­try and they start giv­ing me advice on how they are doing it and why. Does it mat­ter that I just hap­pen to have a cer­tain amount of influ­ence in that very same indus­try? Does it mat­ter that I hap­pen to have fam­ily and dear close friends in high level posi­tions in that par­tic­u­lar indus­try? Does it mat­ter that I've been involved in high level roles within the indus­try that the per­son is speak­ing to me about? Does it mat­ter if my clos­est cousin and his part­ner are two of the largest phil­an­thropists and con­trib­u­tors to the arts in New York? Of course not! I didn't bring it up and I did not feel a need to bring it up. They didn't ask and I didn't need to say it. I'm just sin­cerely grate­ful and com­fort­able with the things I'm doing in my life and the path that I'm on. I've done a great num­ber of things in life (and it's not over yet 😉 ).
Miss­ing Opportunities
Going back to my con­ver­sa­tion at that great lit­tle Irish pub in mid-town Man­hat­tan and the many indi­vid­u­als I met that evening, was that the two indi­vid­u­als who were more than a lit­tle pre­sump­tu­ous in their man­ner­isms with me unfor­tu­nately can be rep­re­sen­ta­tive of other peo­ple out there. Peo­ple who I believe are very good hearted peo­ple but who may want to pause take a step back and real­ize that the per­son they are speak­ing with "may" be some­one that they need to con­nect with or may be that per­son who con­nects them with the group they need or may be the per­son will­ing to pay for their next season's arts pro­duc­tion. Peo­ple who, due to mak­ing neg­a­tive assump­tions, made a bad impres­sion on some­one and missed the oppor­tu­nity they may have been look­ing. I'm not say­ing it would have been guar­an­teed. But why should some­one take such a chance to "shoot them­selves in the foot prematurely?"
When I was speak­ing with these indi­vid­u­als, I couldn't help but won­der how many other indi­vid­u­als these very same peo­ple may have spo­ken with. How many other peo­ple did these peo­ple, the very same peo­ple who were look­ing for that "spe­cial oppor­tu­nity" from some­one, express their dreams and desires with only to turn the other per­son off due to assum­ing that they had more knowl­edge than the other per­son or had too large of a sta­tus role in their mind to be both­ered by some­one they just met? Some­one who iron­i­cally they them­selves striked-up the con­ver­sa­tion with in the first place?
Just a lit­tle some­thing to think about the next time you meet that per­son and strike up a conversation….Cheers!!
Comments